Focus on Driving: May leads all months for impairment-related crashes
Focus on Driving: May leads all months for impairment-related crashes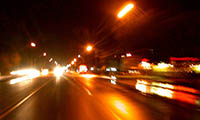 By Doug Pacey / ADOT Communications
May is filled with celebrations. Cinco de Mayo, Mother's Day, Memorial Day Weekend and graduation parties are highlights for many.
In Arizona, May also sees more impairment-related crashes than any other month. Many variables affect this, but long the holiday weekend and various celebrations are contributing factors.
ADOT doesn't want people to stop having a good time. We want people to celebrate responsibly so they can enjoy the same celebrations year after year. Don't drive drunk – designate a driver or use a taxi or rideshare. Factoring in fines, court costs and legal fees, a DUI can easily total $10,000. No late-night fare will come close to that amount.
According to crash statistics collected from Arizona law enforcement agencies since 2012, the month of May averaged 3,409 vehicle crashes where alcohol, prescription drugs or illegal drugs were a factor.
---
This is part of a series we're calling "Focus On Driving." This series looks at often-overlooked measures that keep the traveling public safe – from rumble strips and barriers to the reflective paint used in lane striping – as well as timely safety topics, such as when crashes involving particular factors occur most often.