Free training offered by ADOT gives job-seekers a gateway to construction careers
Free training offered by ADOT gives job-seekers a gateway to construction careers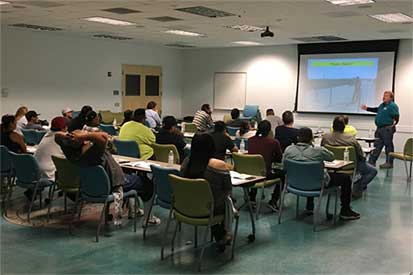 By Steve Elliott / ADOT Communications
Q. What do you get when ADOT sponsors free training for people from disadvantaged groups who are interested in construction careers?
A. Jobs for people who need them, through the Construction Academy Pre-Apprenticeship Training Program.
In recent months, we've featured the impact of Construction Academy training sponsored by ADOT's On-The-Job-Training Supportive Services Program, part of the agency's Business Engagement and Compliance Office, including:
Over the summer, 31 individuals seeking a hand up obtained entry-level positions as flaggers on construction projects, paying $13 to $19 per hour, through a Construction Academy that ADOT offered in Phoenix.
This past spring, all 18 Construction Academy participants at Gila Community College landed jobs. They completed a 16-week program that included highway flagger certification, training in carpentry and job-seeking strategies, and Occupational Safety and Health Administration instruction on job-related safety and health hazards.
And recently, 27 members of the Pascua Yaqui Tribe in the Tucson area earned their certification to work as flaggers on tribal construction projects through a Construction Academy sponsored by ADOT. The photo above shows one of the weekend seminars participants attended.
More is on the way, in part because ADOT's On-The-Job Training Supportive Services Program will receive $112,000 in funding from the Federal Highway Administration to continue offering workforce-development initiatives in the federal fiscal year that begins in October.
Flagger certification is just one of the training opportunities available to women, minorities and members of economically disadvantaged groups, including those who are out of work. Individuals also can receive training that will help them become concrete finishers, block masons, highway surveyors and heavy equipment operators.
A Commercial Driver License Construction Academy that ADOT offers in Phoenix and Tucson helps participants obtain Class A commercial driver licenses to land trucking jobs in the construction industry. And the ADOT Business and Compliance Office Construction Project Management Academy, launching this fall, will provide training for participants in the On-The-Job-Training Supportive Services Program as well as to Disadvantaged Business Enterprises.
In addition to training provided directly by ADOT, Construction Academy programs sponsored by ADOT also are offered through Gila Community College, Gateway Community College and, starting this fall, Pima Community College and Pima County Joint Technical Education School District.
ADOT covers training costs and fees for participants and provides support including transportation and child care assistance, job-readiness training and safety gear such as hard hats and protective eye wear. And we continue providing participants assistance as they move toward journeyman status.
The goal for all such programs: removing barriers to beginning construction careers.
For more information or to apply for a Construction Academy, please visit azdot.gov/BECO, call 602.712.7761 or pick up materials at the ADOT Business Engagement and Compliance Office, 1801 W. Jefferson St., Suite 101, in Phoenix.