Friday Five: A life-saving rescue, eerie message boards and freeway construction
Friday Five: A life-saving rescue, eerie message boards and freeway construction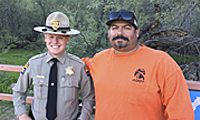 By Caroline Carpenter / ADOT Communications
As we review everything that happened this week at ADOT, we have an amazing survival story to share and a busy schedule of construction leading up the Thanksgiving holiday.
Follow the #FridayFive hashtag on social media to see others' top fives for the week.
1. Two ADOT maintenance crew members, Zach Moralez and Josh Miller, along with a rancher and an Arizona Department of Public Safety trooper, discovered a woman who had crashed her vehicle down an embankment along US 60 east of Wickenburg. The amazing part of the story is crash happened six days before the woman and her vehicle were found! Our Facebook post shares a link to the entire story.
2. Unless you've been under a rock, you probably noticed Halloween was Wednesday. We also took notice and used it as an opportunity to remind drivers to buckle up and drive safely.
Last year on #Halloween, 12 pedestrian-related crashes occurred – that's more than twice the daily average of pedestrian collisions. Drivers should use extra caution and anticipate seeing pedestrians in unexpected places. More: https://t.co/0LxuwuNAF5 pic.twitter.com/KUG3O1L8op

— Arizona DOT (@ArizonaDOT) October 31, 2018
3. Did we mention there will be a lot of construction in the coming weeks? Here is a quick rundown of what you can expect on Phoenix freeways in the coming weeks.
Closures or lane restrictions along I-10 near 59th Avenue for work on the Loop 202 South Mountain Freeway interchange.
Bridge inspections are planned at the I-10/I-17 "Stack" interchange near downtown. 
An ongoing I-10 project near Loop 303 in Goodyear is installing traffic-flow sensors in the pavement as well as electronic message signs above the highway.
4. On Thursday, we shared a vintage photo of a truck driver and commercial vehicle inspector. Check the ADOT Blog on Thursdays because we usually have an interesting photo to share from the ADOT archives.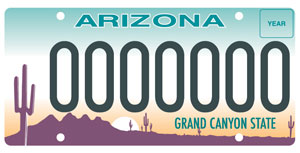 5. If you're looking for a way to be a little more green, our Motor Vehicle Division reminded you that old license plates can be recycled. If you buy a vehicle that needs a new plate or are upgrading to a specialty or personalized plate, you can simply recycle your old plate.