The future of Loop 303
The future of Loop 303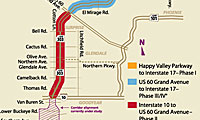 This week we've focused on the newest stretch of Loop 303 (maybe that's because we're really excited to see it open next week!). But, there is so much more planned for the entire freeway and today we want to give you a look at what to expect.
Right now the 303 only traverses about 21 miles between I-10 in Goodyear and Happy Valley Parkway in Peoria. It is primarily a two-lane roadway between I-10 and US 60 (Grand Avenue) and it becomes a four-lane divided highway from US 60 to Happy Valley Parkway.
But, eventually, Loop 303 will be a six-lane (three lanes in each direction) freeway that crosses more than 40 miles of the West Valley.
Ultimately it will extend from the proposed State Route 30 (previously known as State Route 801 -- the future I-10 reliever freeway) a few miles south of Interstate-10 in Goodyear all the way up to Interstate-17, near Lone Mountain Road, two miles south of State Route 74 (Carefree Highway) in Phoenix.
Here's a quick rundown of the work it's going to take to get us there …
Happy Valley Parkway to I-17 – We're nearing the end of the first phase of this project. Construction for phase one started in 2009 and produced a four-lane divided roadway that includes interchanges at Happy Valley, Lone Mountain and Lake Pleasant parkways, as well as an interchange with I-17 at Lone Mountain Road that will serve as the interim connection between I-17 and Loop 303 until completion of a freeway-to-freeway interchange. This stretch is set to open the week of May 9!
US 60 to I-17 – Proposed improvements for this 20-mile segment include the addition of a third lane in each direction and several overpasses or underpasses at intersecting roads. This phase of work will likely start in 2019.
I-10 to US 60 – Currently, this 16-mile segment is a two-lane roadway. The plan is to complete this section as a six-lane divided freeway with a freeway-to-freeway interchange at Loop 303 and I-10. Construction is anticipated to start in summer 2011 between Mountain View Boulevard and Peoria Avenue. One-way frontage roads will also be added at the new freeway-to-freeway interchange between Loop 303 and I-10 and also between Northern and Peoria avenues, where the Northern Parkway interchange is planned.
Funding for all this work is the result of a half-cent sales tax, which voters approved in 2004.
That money is going toward projects identified in the Regional Transportation Plan – a blueprint for Valleywide transportation improvements in Maricopa County for the next 20 years.
Loop 303 is an important component of the plan that was spearheaded by the Maricopa Association of Governments through an extensive public process to identify regional transportation needs. In fact, the 14-mile stretch of Loop 303 set to open next week is the first new freeway segment built with this voter-approved funding.