Give us a 'double tap' on Instagram
Give us a 'double tap' on Instagram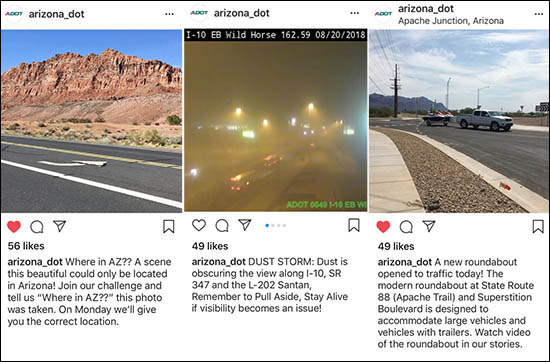 By Caroline Carpenter / ADOT Communications
Are you on the "Gram?" Do you prefer latergrams or IG stories? If you're on Instagram, be sure to follow the official ADOT Instagram account.
ADOT Instagram is a bit different than most of our other social media platforms.
On Twitter, you'll find a lot of quick updates on traffic, construction info and our latest news.
We share our blog posts and need-to-know ADOT news on the Facebook page.
Our Instagram is all about the best photos from our construction projects, ADOT traffic cameras and shots captured by our crews on the road.
On any given day you may see a monsoon storm.
Or ADOT crews hydroseeding.
Occasionally we'll take you behind the scenes to spots like the Deck Park Tunnel. You can also watch our highlights for a recap of popular safety messages posted to our overhead message boards.
We hope to see you on "Insta" soon.