Give us your feedback on the Passenger Rail Corridor Study
Give us your feedback on the Passenger Rail Corridor Study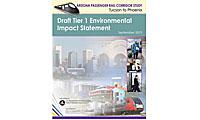 It's been a while since we last talked about the Passenger Rail Corridor Study...
In case you need a refresher – the Passenger Rail Corridor Study is part of ADOT's long-range plan to determine what it will take to construct a rail line to link Phoenix and Tucson, while meeting demands for future growth and travel options along I-10, one of the busiest highway corridors in Arizona.
When we last left off, the list of alternative corridors for a potential passenger rail line had been narrowed to three and we were asking for your input.
Today, we are again asking for your feedback, but this time we have something new for you to review – a Draft Tier 1 Environmental Impact Statement, which is part of a federally required review process, governed by the National Environmental Policy Act.
The process provides the public with an opportunity to review and comment on the document, along with the recommended alternative.
About the Draft Tier 1 Environmental Impact Statement
This document considers two rail alternatives and a no-build option in order to identify the most appropriate corridor for a potential passenger rail line between Tucson and Phoenix.
The Yellow Alternative would serve East Valley communities and central Pinal County, and could share right of way with Union Pacific Railroad north of Eloy, where appropriate. The Orange Alternative would serve East Valley population centers and share part of its alignment with the planned North-South Freeway Corridor in Pinal County. The two alternatives would run primarily within the I-10 corridor between Eloy and Tucson.
Under the No-Build Alternative, no passenger rail system would be constructed between Tucson and Phoenix. The No-Build Alternative assumes that all proposed highway projects currently funded within the study corridor would be built to provide enhanced capacity for Interstate 10 and the surrounding region.
ADOT has also identified general locations for stations along the passenger rail line. The route between Tucson and Phoenix is recommended as a blended service to include an express intercity service that would have few stops between the two metropolitan areas and a local commuter service that would potentially stop at all stations within the corridor. The corridors include system hubs located near downtown Phoenix and downtown Tucson. Both include extensions beyond the system hubs: to the west Phoenix metropolitan area and to Tucson International Airport. However, these extensions are not part of the Draft Tier 1 Environmental Impact Statement, but are compatible with the recommendations. The passenger rail line also proposes to serve Phoenix Sky Harbor International Airport and Phoenix-Mesa Gateway Airport.
How you can provide feedback
The Draft Tier 1 Environmental Impact Statement is available for download at azdot.gov/passengerrail. Printed copies are also available for review through Oct. 30 (find locations).
ADOT has scheduled three public hearings for community members to attend and provide comments. A video summarizing the studies will be shown at all three public hearings and members of the rail study team will be available to answer questions. Public hearings will be held:
Sept. 15: 5:30 to 7 p.m. — Phoenix Public Library, Burton Barr (1st Floor Pulliam Auditorium); 1221 N. Central Ave., Phoenix, 85004
Sept. 16: 5:30 to 7 p.m. — Tucson Convention Center (Leo Rich Theater); 260 S. Church Ave., Tucson, 85701
Sept. 17: 5:30 to 7 p.m. — Central Arizona College, Signal Peak Campus (Room M101); 8470 N. Overfield Road, Coolidge, 85128
The deadline for all public comments is Oct. 30, 2015. Comments may be provided at one of the hearings, submitted via the ADOT website at www.azdot.gov/passengerrail, emailed to [email protected], or mailed or faxed to:
ADOT Passenger Rail Study Team
24 W. Camelback Rd., Suite 479
Phoenix, AZ 85013
Fax: 602.368.9645
What happens next?
By the end of this study, a Final Tier 1 Environmental Impact Statement will be published and one rail corridor or the No-Build Alternative will be selected. Once the public comment period wraps up on Oct. 30, the rail study team will compile and review all comments and work with our federal partners to develop a Final Tier 1 Environmental Impact Statement and Record of Decision. This document will contain a preferred alternative and is expected to be complete by the end of this year, along with a Service Development Plan. The Service Development Plan will include infrastructure and operation plans, an implementation plan, demand and revenue forecasts, capital programming, and operation and maintenance costs of a potential passenger rail system.
Additional future environmental work and site-specific studies would be required before a rail system could be constructed.
There is currently no construction schedule and there is no funding identified for future rail studies or to build and maintain a rail system. It will be up to the public, stakeholders and policymakers to decide how the project should move forward and how to generate the funding to pay for it.
For more information about ADOT's Passenger Rail Corridor Study, visit azdot.gov/passengerrail or revisit some of our previous blog posts.