Help us develop a vision for two vital corridors in Flagstaff
Help us develop a vision for two vital corridors in Flagstaff
By Ryan Harding / ADOT Communications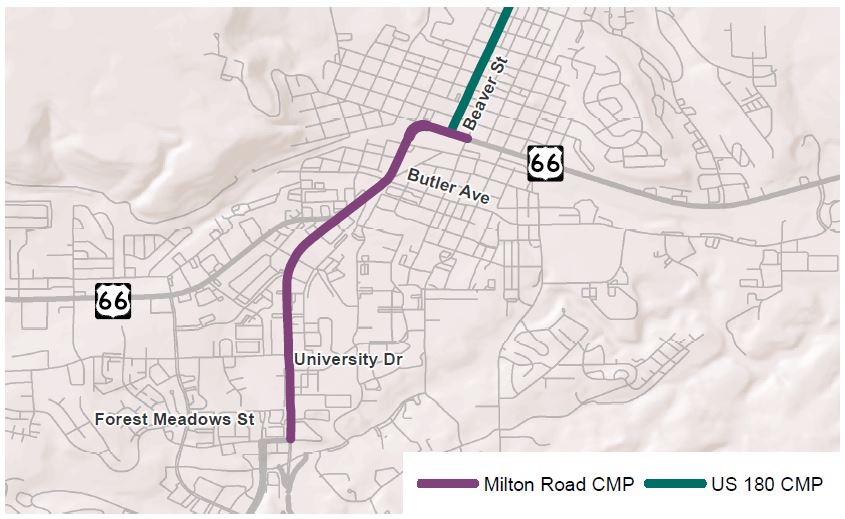 ADOT has been studying two important roadway corridors in the growing Flagstaff area and now we want your input.
ADOT is developing a master plan for Milton Road, also known as SR 89A, which is the primary road coming into Flagstaff as well as US 180, also known as Humphreys Street and Fort Valley Road. US 180 is the primary corridor to Arizona Snowbowl and other snow play areas. The highway is also an alternate route to SR 64 and the Grand Canyon.
The purpose of the master plan is to create a 20-year vision for two busy transportation corridors that addresses current and future safety, traffic congestion and transit issues by looking at different ways to improve traffic flow and safety and address transit needs.
ADOT is holding virtual public meetings this week on Wednesday, Nov. 18 and Thursday, Nov. 19 from 6:30 to 8 p.m. in order to answer questions and get public input on these master plans.
The public is encouraged to visit azdot.gov/MiltonCorridorMasterPlan and azdot.gov/US180CorridorMasterPlan to submit comments via an online survey. All comments on these studies will need to be received by Dec. 4. 
Questions and comments may also be submitted by emailing [email protected] and [email protected]. Members of the public can also submit comments by phone by calling 602-522-7777.