From Hi Jolly to Tom Mix, you'll find history along roadways
From Hi Jolly to Tom Mix, you'll find history along roadways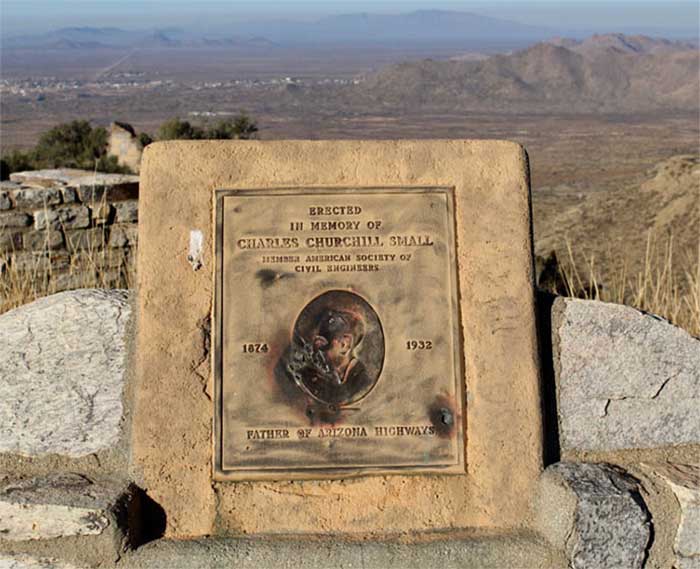 By Peter Corbett / ADOT Communications
Arizona history isn't just for textbooks and ghost towns.
This state has hundreds of historical markers along highways, in town squares and elsewhere that are remembrances of people, places and events that have shaped life here. Stone monuments with bronze plaques tell stories of explorers, cowboys, Native Americans, miners, engineers, town founders and fallen soldiers.
It's easy to whiz by historical markers with a vague notion of stopping another time or by giving in to resistance from the back seat ("Do we have to stop at another historical marker?").
Here's just some of what you might miss along Arizona's highways.
Not far off Interstate 10 in Quartzsite you'll find a pioneer cemetery with a pyramid-shaped monument the Arizona Highway Department placed to mark the grave of Hi Jolly, the camel driver for the Beale road expedition in 1858. A plaque reads: "The last camp of Hi Jolly born somewhere in Syria about 1828. Died at Quartzsite Dec. 16, 1902. Came to this country Feb. 10, 1856. Camel driver, packer, scout for over 30 years. A faithful aid to the US Government." Hi Jolly, a mispronunciation of Hadji Ali, was born Philip Tedro, and he was born in Syria of Greek ancestry. He came to this country in the mid-1800s when the U.S. Cavalry experimented with camels as pack animals.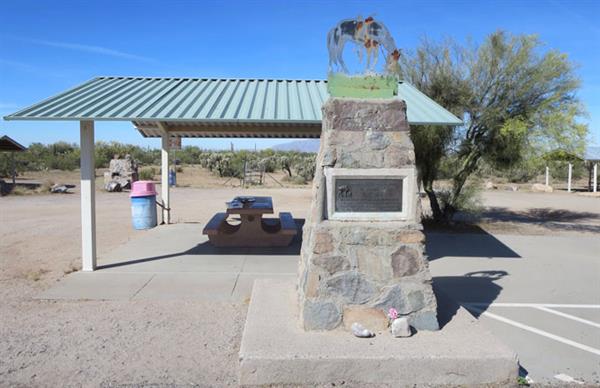 Along the Pinal Pioneer Parkway (State Route 79) south of Florence is a stone and metal monument (shown above) honoring Tom Mix, the silent film cowboy star who died in car crash nearby: "Jan. 8, 1880 to Oct. 12, 1940. In memory of Tom Mix whose spirit left his body on this spot and whose characterization and portrayals in life served to better fix memories of the Old West in the lives of living men." Atop the monument is a silhouette of Mix's steed: Tony the Wonder Horse. You can learn more about Mix and his movie career by visiting an exhibit at the Pinal County Historical Society and Museum. A visitor log at the Tom Mix Monument along SR 79 includes comments such as "R.I.P," "He was my hero as a little boy" and "He was my dad's hero."
ADOT rest areas have markers and monuments honoring highway workers who have died in the line of duty (a sundial at Sunset Point), veterans (McGuireville) and the Gadsden Purchase (Sacaton).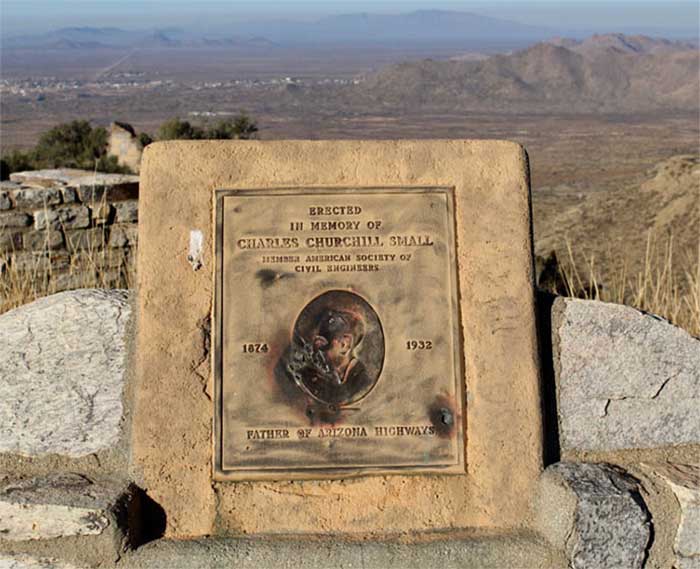 You can get a little ADOT history by stopping at a viewpoint along SR 89 at Yarnell Hill, where the historic marker at right honors Charles Churchill Small as "Father of Arizona Highways." An ADOT Blog post earlier this year explored the colorful life and career of the man behind this marker, including his 13-year tenure, starting in 1919, as an engineer with what was then the Arizona Highway Department.
A monument to Geronimo's surrender is at milepost 406 of State Route 80 in southeastern Arizona, while drivers on US 60 passing Vulture Mine Road in Wickenburg will see a marker honoring Henry Wickenburg's discovery of the most productive gold mine ever in Arizona.
Travelers on US 60 west of Phoenix in Salome can visit a marker explaining how Dick Wick Hall made the community famous. He was a founder of Salome who named the town for Grace Salome Pratt. She also gave the town its motto: "Where she danced." It's said that Salome got out of a car barefoot and quickly took to dancing to keep her feet from burning on the desert sand.
The Daughters of Utah Pioneers placed markers at a number of Arizona sites, including Lees Ferry, several miles north of US 89A at the Navajo Bridge; the site of an old fort at Joseph City, just off Interstate 40 in northeastern Arizona; and outside the Arizona State Capitol, honoring Arizona's pioneer women.
In southwestern Arizona is a marker for the Arizona Territorial Prison in Yuma that operated from 1876 to 1909: "Built to house the badmen who were the terror of Arizona when it was the last frontier of the nation. Escape from the prison was difficult but confinement in the stark, sunbaked cells was even worse."
The history lessons, like Arizona's highways, go on and on across the state. You never know what you might learn while you're stretching your legs at a roadside stop.