Holiday Travel: Be patient, don't speed when out on state's highways
Holiday Travel: Be patient, don't speed when out on state's highways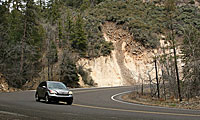 Planning on hitting the road this holiday?
You're not alone!
Traveling to be with friends and family for Thanksgiving is a tradition that's right up there with turkey and pumpkin pie. We know the state's highways will be busy, which is why we'd like to share some details to help make your trip a safe one.
First, some good news…
To help holiday travelers and promote safety, ADOT won't allow any construction-related closures along state highways over the Thanksgiving weekend.
The agency will be working to help DPS, local fire and medical emergency agencies and towing companies respond to incidents along state highways as quickly as possible.
Drivers should be prepared for unscheduled closures due to disabled vehicles or crashes. Motorists are also urged to stay alert and obey speed limits, especially in areas where existing work zones are in place.
Teaming up for highway safety
ADOT will position heavy equipment, trucks and crews at locations along several of the state's busier travel highways starting Wednesday, Nov. 25. For example, equipment such as front loaders and incident-response trucks will be positioned along Interstate 17 in the Anthem area south of Black Canyon City, Interstate 10 near Queen Creek Road southeast of Phoenix and along State Route 87 at the Saguaro Lake turnoff north of Fountain Hills.
On ADOT's electronic signs along highways, travelers will see messages about slowing down and driving sober.
Pack some patience and play it safe
Last year's was the deadliest Thanksgiving weekend on Arizona roads in the past decade. The toll a year ago: 18 people killed, six of them in crashes involving impaired drivers.
ADOT and other safety agencies, including the Arizona Department of Public Safety and Governor's Office of Highway Safety, are urging drivers to keep their speed in check, buckle up and avoid distractions, especially texting while driving. Here are some additional safe-driving tips you'll want to remember:
Get a good night's rest before heading out on a trip.
Check your vehicle, including tire pressure, fluid levels and the condition of engine belts.
Buckle up and double-check child safety seats.
Never drive while impaired. Arrange for a designated driver ahead of time.
Obey speed limits, be patient and avoid distractions. Don't text while driving.
Have an emergency preparedness kit that includes extra clothes, blankets, flashlights, snack foods and drinking water.
For the latest highway conditions across Arizona, travelers can visit ADOT's Travel Information site at az511.gov or call 511 (outside Arizona call 1-888-411-ROAD). ADOT's Twitter feed (@ArizonaDOT) also provides information about closures and highway conditions.
Additional information about winter driving, ADOT's snowplows and items to include in an emergency kit can be found at azdot.gov/KnowSnow.