At home in Painted Cliffs Rest Area
At home in Painted Cliffs Rest Area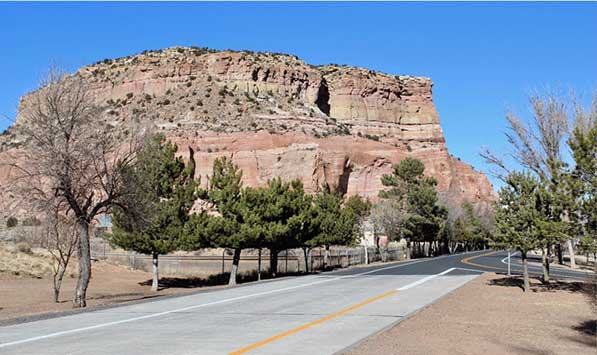 By Peter Corbett / ADOT Communications
Most visits to rest areas are brief, but Davina Six's stay at ADOT's Painted Cliffs Rest Area, on Interstate 40 in Lupton, has lasted more than a decade.
It's where she lives, works and plays. Six is a second-generation Painted Cliffs caretaker who lives with her family in a home at the rest area, 100 yards from the near-constant hum of the highway. She is one of 16 caretakers who live at ADOT rest areas.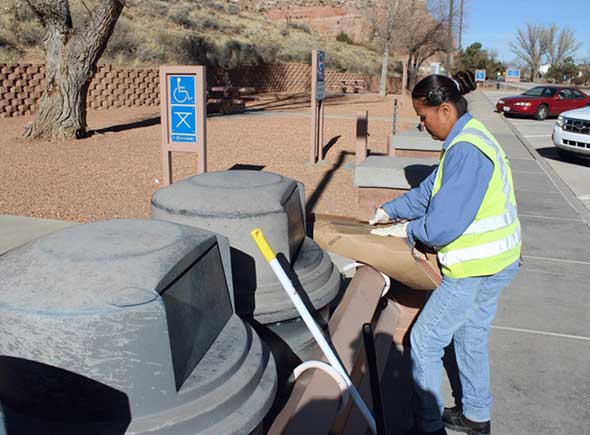 The sand and rust colored buttes of Painted Cliffs provide a scenic backdrop for the highway rest stop that is Six's neighborhood. With its picnic tables, ramadas and pet-exercise area, Painted Cliffs could be mistaken for a town park if not for I-40 next door.
This scenic area near the state line was a film location for "Ace in the Hole," a 1951 film directed by Billy Wilder and starring Kirk Douglas. "Grapes of Wrath" was also filmed at Lupton in 1939.
Painted Cliffs Rest Area, a mile west of the New Mexico line in Apache County, is often a first stop for Arizona visitors.
Six and her staff of three – Vanessa Begay, Irene Nelson and Carol Ashley – keep the bathrooms clean, pick up trash and maintain the rest area.
"I have a great crew," Six said. "They do a tremendous job. I'm grateful they work here."
Six and about 70 rest area workers statewide are employed by DBi Services LLC, which has a five-year contract with the state to manage 16 rest areas and provide maintenance and janitorial services.
Robert Wheeler, ADOT rest area manager, said rest area workers have an important job to do keeping state facilities clean and safe for travelers.
"They take a lot of pride in their work, and we get good feedback from visitors who appreciate the job they do," Wheeler said.
He also praised Six.
"I wish I had a Davina working at every rest area," he said.
Painted Cliffs is scheduled for a renovation project next year. ADOT is currently making improvements to the Sacaton Rest Area on I-10. That will be followed by rest area upgrades to Canoa Ranch on I-8, Haviland on I-40 west of Kingman, and then the Painted Cliffs and Meteor Crater rest areas on I-40, Wheeler said.
On a recent afternoon, a steady flow of motorists stopped at Painted Cliffs to rest, eat lunch, stretch their legs, walk their dogs and use the facilities. A truck driver was lying under the cab of his semi doing repairs. Many of the cars, RVs and semis were filthy with slush and road salt from long drives across snowy highways.
Travelers often expect it to be warmer than it is when they arrive in Arizona, Six said, noting that Painted Cliffs is cool in the winter at an elevation of nearly 6,200 feet. Shoveling snow off the sidewalks is part of the job, while ADOT snowplows keep the parking lot cleared.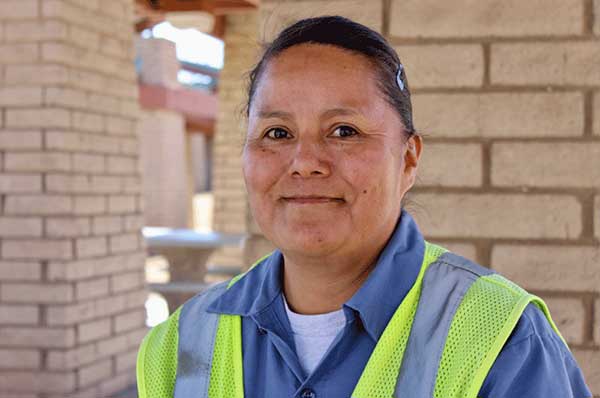 Six knows Painted Cliffs well. She has worked there for 11 years, including five years with her father, Wilfred Six, a longtime caretaker who passed away two years ago at age 66. She learned the job from him. Six still uses a simple tool her father devised that allows rest area staff to combine partially used rolls of toilet paper to full rolls to cut waste.
Six lives at Painted Cliffs with two daughters and her mother. The school bus stops at Painted Cliffs to pick up 5-year-old Naturi and 17-year-old Sheyenne, a senior at Valley High School in Sanders and a member of the school's state champion basketball team.
On her off days, Six travels to her daughter's basketball games or cross-country meets, depending on the season.
Nothing is close here. Valley High School is a dozen miles from Painted Cliffs. Supermarkets and other services are 20 miles away in Gallup or 70 miles distant in Holbrook.
Still, Six said she feels fortunate to live and work at Painted Cliffs near where she grew up in Houck, about 10 miles west of the rest area. As a teenager, she worked in a nearby pancake house. It's operated by the Ortega family that has long been one of the mainstays of Lupton's tourism trade with Indian arts shops and restaurants along I-40 and Route 66 before that.
Many of those living nearby on the Navajo Reservation leave the area to find jobs in Phoenix or Albuquerque, Six said.
Her rest area job has its downsides. Cleaning up some of the messes is unpleasant, but Six said she has gotten used to it. She's also grown accustomed to traffic noise and the BNSF trains rumbling past overnight.
"I sleep right through it now."