How our crews do spring cleaning in the high country
How our crews do spring cleaning in the high country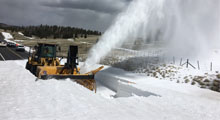 By David Rookhuyzen / ADOT Communications
April is here, so it's time for some spring cleaning.
Our crews up in the White Mountains were out last week prepping several state highways in that area following normal winter closures. And what, you may wonder, does it takes to clear a road after several months of heavy snow?
The answer, as you can see in these photos from work done on State Route 273, is some hard work and a good snowblower. We wrote about this snowblower and what it's capable of in February in the aftermath of the massive winter storm that covered most of the high parts of the state with multiple feet of snow.
State Route 273 between Sunrise and Big Lake, along with State Route 261 between Eager and Big Lake, and State Route 473 between State Route 260 and Hawley Lake all reopened on Monday. State Route 366, known as the Swift Trail heading up Mount Graham near Safford, has also reopened.
State Route 67, between Jacob Lake and the Grand Canyon is expected to remain closed through mid-May. But don't worry: We have a snowblower stationed up that way for when the weather is right.
If the highway to your favorite lake is now open, please remember to take the following precautions as you head toward the great outdoors:
Make sure all occupants in a vehicle are buckled in.
Check tire pressure, fluids and more to make sure a vehicle is in proper running condition.
Be patient, including not following other vehicles too closely and building in extra travel time.
Get enough sleep before the trip.
Bring extra water and food.
Never drink and drive.
Check for information about highway restrictions and more by visiting az511.gov, calling 511 or following ADOT on Twitter (@ArizonaDOT).