With I-10 Broadway Curve construction ramping up, chess-themed TV commercials remind you 'good info is a good thing'
With I-10 Broadway Curve construction ramping up, chess-themed TV commercials remind you 'good info is a good thing'
By the Broadway Curve Project Team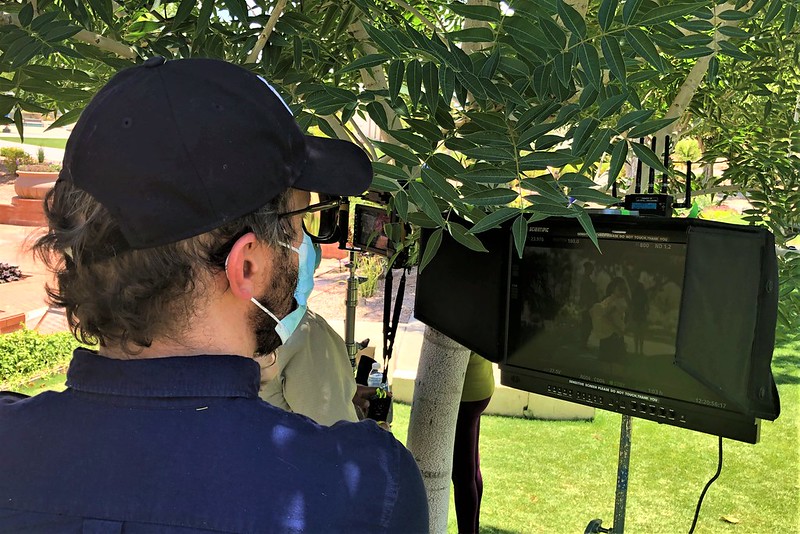 Attention to detail is critical throughout design and construction of the I-10 Broadway Curve Improvement Project. It's also important as ADOT works to create awareness for drivers and others who'll be impacted by three years of road work. Nowhere was that more evident than during production of the project's TV commercials, which underscores the importance of having "good info."
The TV spot - available in English and Spanish - begins with two friends playing chess in a park. One player captures the other player's queen. He thinks he's won the match until a young girl walks by, looks at the board and sees the winning move. She whispers a piece of advice into the second player's ear.
Checkmate!
So what did she say to help the player win the game?
"E1 to E8," explained local chess expert Josue 'Sway' Garcia, who was on set during the June 8 production in Scottsdale. "That meant he should move his rook to capture his opponent's rook and force the checkmate."
Garcia has been a chess aficionado for more than 25 years. In the last three years alone he's logged nearly 40,000 matches on Chess.com, won 19,854 of them, and tied 807. On the production set, he was more than an extra playing chess in the background. His primary role was to verify the two players' chess board was set up correctly and all the moves featured in the commercial are authentic.
In chess, losing a queen is "devastating," Garcia said. But in this match, it created the opportunity for one move that signaled checkmate ahead.
Garcia said there's another detail the keen-eyed chess enthusiast might notice on the board: Losing the queen was a blessing in disguise for the winning player.
"If he hadn't lost his queen," Garcia said, "he would have lost the match."
Sure, details only chess players will notice; but making sure they were accurate was a priority for this production. Similarly, drivers and others might not notice or understand many of the details that go into reconstructing 11 miles of I-10 in the metro-Phoenix region. But they truly matter for the project to be a winner.
And, although ADOT can't help you navigate a chess board, we can provide you with "good info" to navigate the construction zone on I-10. Visit i10BroadwayCurve.com; while you're there, subscribe to receive project email alerts. Download the free mobile app, The Curve from the App Store or Google Play. You can also call 602.501.5505, email [email protected] or stop by the project office at 3157 E. Elwood Street, Suite 100, in Phoenix between 8 a.m. and 5 p.m. Mondays through Fridays.