I-11 and Intermountain West Corridor Study now complete
I-11 and Intermountain West Corridor Study now complete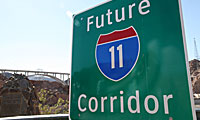 More than two years ago, Arizona and Nevada set out on a study to determine the possibilities and benefits of developing a new interstate corridor to connect Phoenix and Las Vegas, while extending south to Mexico and north through Nevada, potentially reaching as far as Canada.
The goal of the study was not just to find a way to directly connect these two major metropolitan areas by building a new highway, but to develop a plan and the necessary infrastructure to position the two states for broader success in the global marketplace.
The Interstate 11 and Intermountain West Corridor Study is now complete and points to the need for a new multimodal freight corridor and a manufacturing belt that will drive trade, commerce, job growth and economic development for the two states and facilitate strong connections to other major regional markets.
"Transportation is a primary driver of commerce, jobs and tourism," said Governor Jan Brewer. "This is why Interstate 11 is such a critical investment in our future, as it opens new possibilities for our state while connecting communities and economies."
On Friday, Oct. 10, the State Transportation Board reviewed and accepted the recommendations documented in the Corridor Concept Report, the final element in this initial two-year feasibility study. This report, along with all the study's documents and information, can be found at i11study.com.
"Interstate 11 represents one of those major corridors that would provide access to international markets to the north and south of Arizona and to the east and west of us," said ADOT Director John Halikowski. "I-11 is part of our plan for Arizona's Key Commerce Corridors, which requires investment in our transportation infrastructure to ensure the necessary connectivity to other major markets. Arizona's global competitiveness depends directly on our ability to move people, products and services quickly and efficiently. We need our highway corridors to get us there."
The recommended I-11 corridor would likely follow US 93 from the Hoover Dam Bypass Bridge south to Wickenburg, running west of the Phoenix metropolitan area, and then generally following I-10 and I-19 through southern Arizona to the Mexican border. I-11 is envisioned as a continuous high-capacity trade corridor extending from Nogales to Las Vegas and potentially north toward Canada that will support a high proportion of large-scale manufacturing operations located throughout the corridor with a major focus on reliable movement of freight traffic. As a multimodal corridor, it also has the potential to include freight and passenger rail, energy transmission and other high-tech facilities.
There is currently no schedule or funding to build Interstate 11. The next phase of the study process — the environmental impact statement — is also not funded.
For more information about the Interstate 11 study, check our previous posts or visit i11study.com.