Infrastructure Week: Consider the Jersey barrier
Infrastructure Week: Consider the Jersey barrier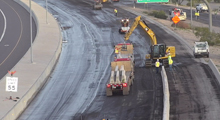 EDITOR'S NOTE: During Infrastructure Week 2019, we're highlighting aspects of construction, improvement and maintenance that are part of Arizona's $22.4 billion investment in state highways. Today, we examine the Jersey barrier's role in construction and improvement projects.
By David Rookhuyzen / ADOT Communications
If you've ever driven through a construction zone, then odds are you're familiar with the humble Jersey barrier, even if you didn't know its name.
Valley residents may have seen them recently as our crews have set these short concrete walls up along the Loop 101 Pima Freeway to prepare a safe zone for crews to get started on a widening project, as seen in the photo above.
This type of barrier was developed in New Jersey in the 1950s. Since then it's become ubiquitous around the country due to its modular design and functionality. Its most obvious purpose is separating lanes, including those heading in opposite directions.
And we need a lot of them. For some perspective: one barrier is 20 feet long, so that means 264 barriers per mile of any given project, according to Highway Operations Superintendent Ray Baca.
More engineering goes into these barriers than might meet the eye. The original Jersey barrier is a little less than 3 feet tall, with the first 2 inches rising straight up, then 10 inches rising at a moderate slope and then the rest rising nearly vertically.
"For the more common shallow-angle hits, the (New Jersey barrier)-shape is intended to minimize sheet metal damage by allowing the vehicle tires to ride up on the lower sloped face," Charles F. McDevitt wrote in a 2000 article about concrete barriers for Public Roads magazine.
He explained that at higher impact angles  the bumper hits the barrier and begins to slide upward. As the vehicle moves in this direction it becomes nearly parallel with the barrier, allowing the wheels to then be able to contact the lower slope.
"Modern vehicles have relatively short distances between the bumper and the wheel; as a result, bumper contact is followed almost immediately by wheel contact," McDevitt said.
Either way, the vehicle doesn't get through the barrier and is deflected.
Other variants have now been created, such as the higher "Ontario Tall Wall" or the "F barrier," which has a different slope to be more effective during crashes involving smaller cars and pickup trucks. The latter is ADOT's preferred barrier, though the original Jersey barrier is still also acceptable.