Introducing Valley Freeways Thursdays!
Introducing Valley Freeways Thursdays!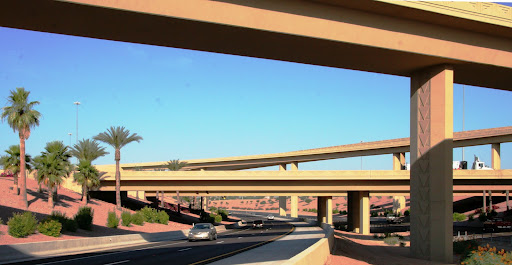 Every Thursday, ADOT produces the Valley Freeways Weekend Closures map, detailing the major road closures planned for the upcoming weekend throughout Maricopa County 's regional freeway system. The map is a great resource (if you don't already receive it you can sign up for that and other freeway-specific email updates), but we want to use the ADOT blog to take the closure information one step further; to tell you more about WHY we're closing the freeways -- about how your tax dollars are being spent to improve your transportation system.
To kick off what we have deemed Valley Freeways Thursday, we thought we'd start with a quick primer about the system:
I-17, originally built in the late 1950s, was the first  freeway segment in the Valley.
There are now two interstates in the regional freeway system: I-17 and I-10, which meet near McDowell Road at what is known as "The Stack."
The one-mile section of I-10 between 7th Street and 7th Avenue (the Deck Park Tunnel) was the final mile of the entire 2,460-mile-long I-10 roadway connecting the Pacific and Atlantic coasts, between Santa Monica, Calif. and Jacksonville, Fla.
Currently there are about 250 miles of freeways in the Valley.
In addition to the interstates, the regional freeway system includes:
*US 60 (Superstition Freeway and Grand Avenue)
*State Route 51 (Piestewa Freeway)
*Loop 101 (Price, Pima and Agua Fria freeways)
*Loop 202 (Red Mountain and Santan freeways)
*Loop 303
*State Route 87 (Duthie-Martin Highway)
*State Route 74 (Carefree Highway)
All those combined, along with a few others, totals more than 3,200 total lane miles for the Phoenix Maintenance District.
That number is always changing as new lanes continue to open. The next lanes slated to open soon include:
*Loop 303 from Happy Valley Parkway to I-17 in May 2011.
*HOV lanes on Loop 101 (Agua Fria Freeway) by the end of 2011
*HOV lanes on Loop 202 (Santan Freeway) by the end of 2011.
We plan to dedicate every Thursday's blog post to an aspect of the Valley Freeway system, so tell us what you want to know. As always, you can post your topic suggestions or ask questions on our Facebook page.