It's happy fur-ever after for Dottie, the pooch rescued from a freeway
It's happy fur-ever after for Dottie, the pooch rescued from a freeway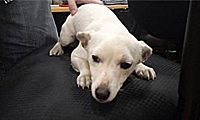 By Tom Herrmann / ADOT Communications
A year ago today, an ADOT traffic camera found a precious little dog holding onto a freeway median wall for dear life.
Today, life is good for Dottie – and her six puppies.
Arizona Department of Transportation operators watched as the pooch ran through rush hour traffic on northbound State Route 51 near Shea Boulevard, jumped onto the median wall and sat there, seemingly too scared to move.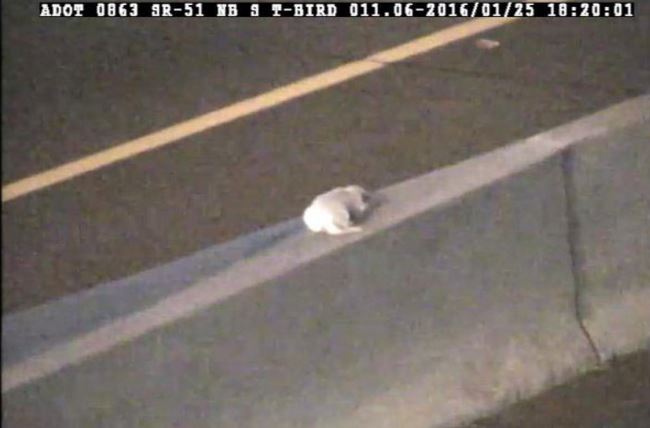 Gil Estrada, a traffic reporter working at the Traffic Operations Center, drove to SR 51 and Shea Boulevard, rescued Dottie and drove her back to the TOC. Jayson Winter, a TOC operator, took her to a vet to check for a microchip, then took her home for the night.
After a search failed to find her owners, the Arizona Equine Rescue Organization offered to help find the dog, by that time named Dottie, a new fur-ever home. She's been a happy part of Marci and Denis O'Shaughnessy's family ever since.
"Dottie has been a wonderful dog," Marci said. "She just lights up the entire house. She's so lovable."
Denis, recently retired, says Dottie and her adopted brother, Fella, keep him busy. "I was worried that I would have all this free time. Dottie and Fella take care of that. They want attention all the time, and I give it to them."
It turned out that Dottie was expecting at the time of her rescue. Her puppies – five males, one female – live on the same street in north Phoenix, some with an O'Shaughnessy daughter's family and some with a neighbor. One remains with Dottie at the O'Shaughnessy home.
Dottie's story has a happy ending. Sadly, that's not always the case when an animal wanders among fast-moving cars and trucks. Here are some ideas for keeping your pet safely out of the roadway.
If you see a dog on the highway, call 911. Don't get out of your vehicle to capture it. You may mean well, but getting out of a vehicle on the freeway is dangerous for you, the animal and other drivers. Let professionals handle the rescue.