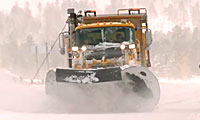 Our out-of-state friends and relatives might not really believe it, but all of us who live here know that it does indeed snow in Arizona (well, at least in parts of the state).
We also know that driving in snowy conditions requires some extra caution and can be kind of tricky, no matter where you reside.
Know Snow
Since many motorists – in Arizona and out – may not know snow as well as they'd like to, or as well as they should, ADOT is kicking off its "Know Snow" campaign to help educate drivers as we head into the cold and snowy months ahead (well, at least in parts of the state).
It starts today over on Twitter where we're encouraging you to ask all the winter-driving questions you can think of. We have experts who will Tweet the answers back to you and everyone else who is following along tomorrow during our annual winter readiness event.
Maybe you've been wondering how many snowplows ADOT operates? Or, you might want to know what to do if you're traveling behind one of those plows?
Now's the time to ask ... although we're certain the folks behind ADOT's Twitter account will get you an answer year round!
When you Tweet your questions, be sure to use the #KnowSnow hashtag. You can also direct the Tweets to @ArizonaDOT, but just using the hashtag should be enough to get our attention.
Besides the #KnowSnow Twitter Q&A, ADOT has additional ways for drivers to get information about winter driving...
You can always check out our "Know Snow" web page to learn some driving tips and other useful information, including what you should do before you even start your trip.
You can also re-visit our previous blog posts and videos, in which we focus on how drivers can stay safe along with the steps ADOT takes each year to prepare for the snowy season.
Last, but not least, you can stay tuned to the ADOT Blog. We've lined up a week's worth of  "Know Snow" blog posts and videos all designed to educate motorists on how to stay safe on the road when it snows (you know ... in parts of the state).