Know snow by the numbers
Know snow by the numbers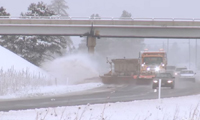 By Caroline Carpenter / ADOT Communications
Even though Arizona hasn't seen much snow yet this year, ADOT is ready when the snow flies. While most people think of our state as the land of cactuses and sunny skies, those who live here know snowstorms can dump a lot of snow in a short period.
ADOT crews spend every fall getting ready for the winter storms. Snowplow operators get training each year and ADOT stocks up supplies like sand in order to be ready when the snow arrives.
The infographic above gives you a look at ADOT's winter safety operations. For more information and tips on how to safely travel in winter conditions, visit azdot.gov/KnowSnow.