Ladder in the road? Here are some steps you can take
Ladder in the road? Here are some steps you can take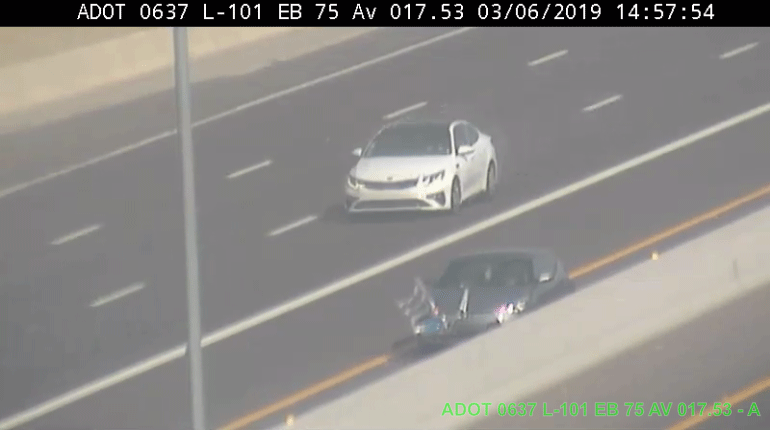 By David Rookhuyzen / ADOT Communications
What's wrong with this picture?
If your answer is that a ladder doesn't belong on the front end of a car on the Loop 101, you are absolutely right. But that's what happened recently when an unsecured ladder fell off a vehicle and this unfortunate driver struck it. Fortunately, no one was hurt.
We see a lot of objects on Valley freeways on almost a daily basis – boxes, mattresses, furniture, appliances and, yes, lots of ladders, all of which are hazards. In addition to damaging vehicles, debris left on the roadway can cause crashes. It also can put law enforcement and ADOT crews at risk trying to remove these items from busy freeways.
That's why we are reminding people about practical steps they can take to keep debris off the freeways:
Tie down loads: Make sure to use tie downs, netting, bungee cords, ropes or straps when hauling items. Ensuring that the items are snug and secure can go a long way toward keeping things on your vehicle and off the freeway.
Cover loads: Use a tarp to ensure that nothing will fly out of the truck bed or trailer.
Don't overload vehicles: Hauling too much in a vehicle is a recipe for things to fall off.
If you see debris on a freeway, it's an emergency. Please call 911 right away so the professionals can handle it.
You can learn more about how to keep items off our roads on the Secure Your Load portion of our FocusOnDriving website.