Look at the progress: Loop 303/I-10 traffic interchange
Look at the progress: Loop 303/I-10 traffic interchange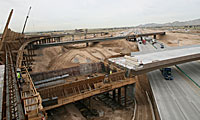 When we told you last week about the newest Loop 303 milestone, were you secretly wishing that we'd show you more photos of the site's progress? If so, you are in luck today!
All of the photos you see above were taken just a week ago at the Loop 303/I-10 traffic interchange. If you've been following along with us here on the blog, you'll notice there has been a lot of progress since we checked in on the project back in December.
Work on the Loop 303/I-10 interchange is still scheduled to wrap up later this year. Loop 303 construction on Camelback Road to Glendale Avenue is also slated to continue through summer of 2014.
For more information on the interchange project and the rest of the Loop 303, visit azdot.gov/Loop303 … or revisit some of our previous blog posts.