Loop 303/I-10 interchange project reaches milestone
Loop 303/I-10 interchange project reaches milestone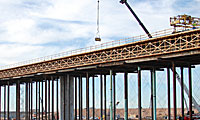 Time sure does fly...
Construction started on the Loop 303/I-10 interchange project last winter, but now, only about one year later, work on the future freeway-to-freeway connection is 50 percent complete!
To mark the milestone, we thought we'd share a look at the project's progress. So, enjoy the photos, and for more information, there are a few important sites you can continue to check regularly:
For updates on all things Loop 303 and to take a virtual drive of the interchange, visit the project page.
For details on how construction will impact your commute, check out the closures and restrictions page.
And, of course, you can always revisit some of our previous project posts here on the blog!