Many details get considered during project construction
Many details get considered during project construction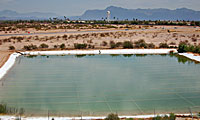 What we've got for you today isn't exactly groundbreaking news, but we think you'll find it kind of interesting…
See the pond in the photo at right? It's actually a water source being used on the SR 24 project in east Mesa (we've blogged before about how crucial water is on a construction site – it helps with dust control and compaction).
Look a little closer and you'll see a grid made of ropes.
Wonder why it's there? We did, so we asked the project's resident engineer and learned that the rope grid was placed in the pond for no other reason except to keep the birds away (by the way, ADOT's resident engineers oversee projects and ensure that everything is built according to the construction contract and ADOT's requirements).
Birds are not typically a top priority on most ADOT projects, but the SR 24 site happens to be near the Phoenix-Mesa Gateway Airport.
Since birds and airplanes really don't mix, the goal was to NOT invite big flocks that potentially could interfere with airport operations. Birds (rather, the desire to not attract birds) also factored into the landscape design on SR 143 near the Phoenix Sky Harbor Airport.
We told you it wasn't earth-shattering, but it's these types of unusual factoids that we find fascinating because they go to show just how much has to be considered on an ADOT project.
Stay tuned … we'll be on the lookout for more to share with you!