Marana mayor: Ina Road project is key to growing town's future
Marana mayor: Ina Road project is key to growing town's future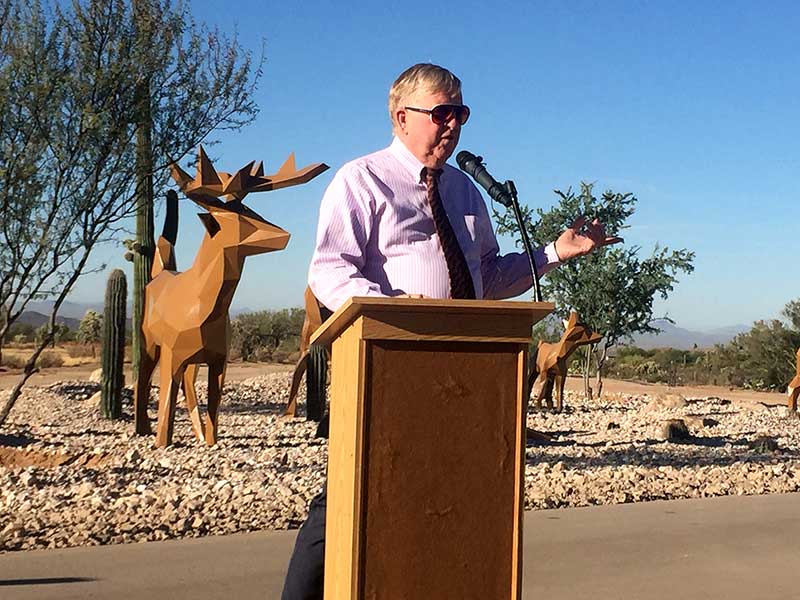 By Tom Herrmann / ADOT Communications
Ed Honea knows Marana's past as well as anyone. His dad was on the first Town Council in 1977, and he has spent 30 years serving his hometown as a council member or as mayor, a position he's held since 2005 (the picture above shows Honea at a recent town function).
He graduated from Marana High School in 1965, just as Interstate 10 was being built through his community. It's the only hometown he's ever known, and the only place he intends to live.
When I caught up with him recently, he smiled as he watched Arizona Department of Transportation crews building new bridges and travel lanes at Ina Road in his community.
"Ina Road is opening our city to a bright future," he said recently. "Work that is being done today is opening up the southern section of Marana to growth unlike anything the southern part of Marana has seen before."
The project is making several important changes that will open the door to growth along Ina Road, Honea said. Ina will be widened to two lanes in each direction from the freeway to Silverbell Road, with new two-lane bridges to carry traffic over the Santa Cruz River.
"We've already had one company buy land on Ina and get the zoning they need to build once the work is finished," he said.
Even with another year to go on the project, other companies are looking to get into the area to take advantage of the growth Honea knows is coming.
"Ina Road will be a new entrance to the city," he said. "I expect to see shopping and restaurants and residential developments that want to be in Marana because the new roads will be there to support it. And it will take away some of the congestion on Cortaro Road."
People who once thought Marana was too far from Tucson to consider as a place to live will reconsider once they see how Ina Road and freeway improvements reduce the commute, he said.
"Marana will be the No. 2 city in Pima County, and Ina Road will be a big part of the reason for that," he said, smiling and looking at the mountains outside his window.