Meet the Interstate 10 Broadway Curve Improvement Project team members featured in new safe-driving Public Service Announcement
Meet the Interstate 10 Broadway Curve Improvement Project team members featured in new safe-driving Public Service Announcement
By the Broadway Curve Project Team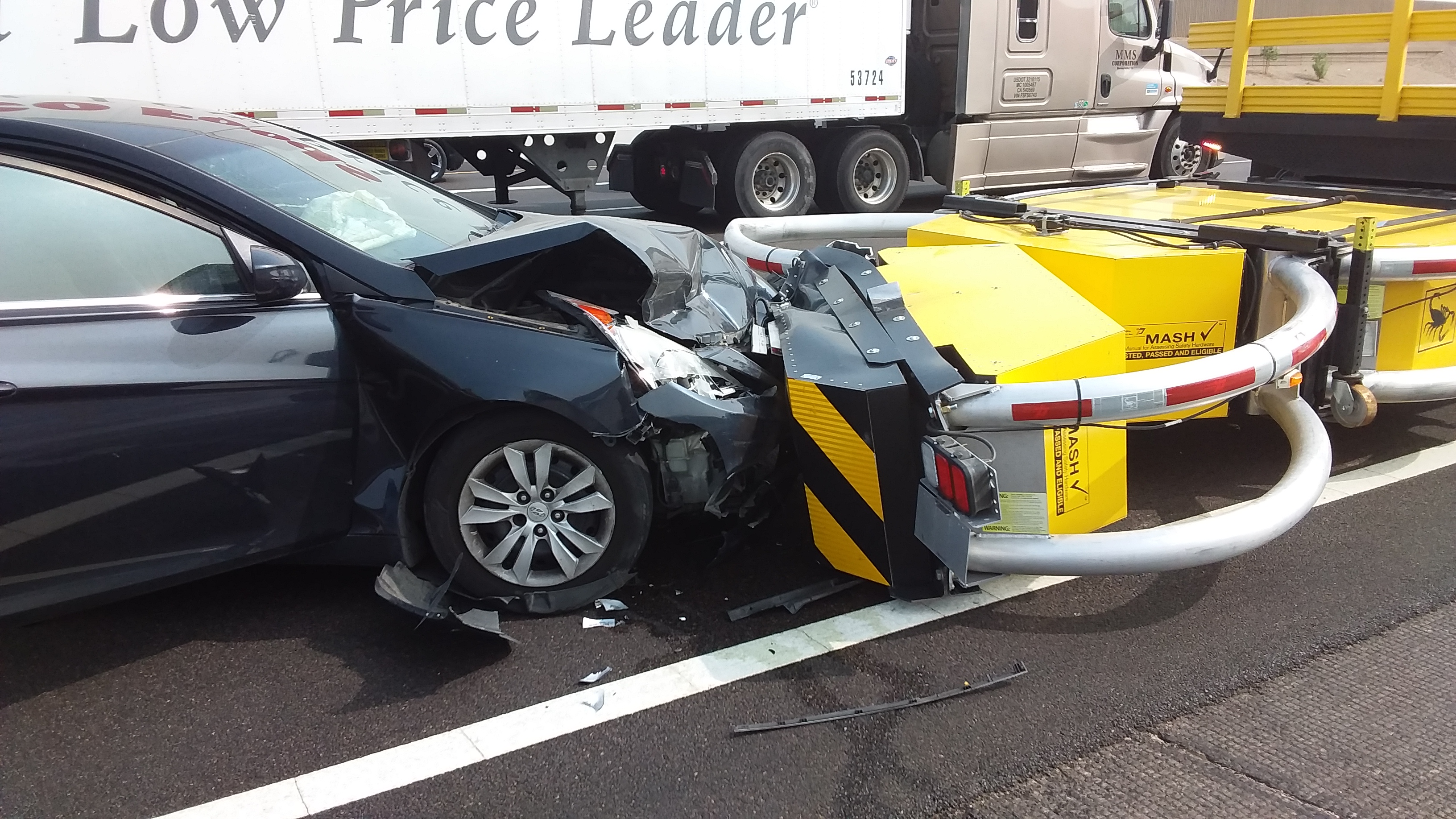 If you've driven on any freeway, chances are you've seen the aftermath of vehicle collisions that just occurred, or evidence of crashes from the recent past: guardrails smashed into accordion-looking metal clusters, pieces of freeway signs bent and twisted, or tire marks on barrier walls. Sometimes you might even wonder, "How in the world did a tire mark get that high up on the wall?"
Most crashes are the result of driver behavior. According to the Arizona Department of Transportation's 2020 Crash Facts report, driver behavior is a leading factor in more than 90% of crashes. Speeding, impairment, aggressive driving, and distracted driving are primary contributors -- yet all of these factors are 100% preventable.
Members of the Interstate 10 Broadway Curve Improvement Project team see the damage that crashes cause all too often. In their work zone, speeding drivers are the most common culprit despite the posted 55 mph speed limit. In an effort to reduce the number of crashes in their 11-mile work zone, they participated in a new public service announcement that reminds drivers to slow down and drive 55.
I-10 Broadway Curve Improvement Project team members featured in the PSA (pictured above) are Marcy McMacken, ADOT Community Relations project manager and project spokesperson; Edika Zarbroudi, P.E., ADOT project supervisor; Jeremy Sala, P.E., resident engineer; Kole Dea, P.E., ADOT senior resident engineer; and ADOT Project Manager Amy Ritz.
Project Manager Amy Ritz, who's worked at ADOT for 16 years, said she hopes this PSA encourages motorists to do one small thing while traveling through construction project work zones: slow down. By just slowing down, this small action will help get everyone home safely to their families, she said.
Kole Dea has worked at ADOT for 15 years. Dea says that when crews are in active work zones, their worksite can be very close to the freeway with thousands of vehicles driving by. When drivers slow down, the chances of a crash decrease, and work-crew safety increases.
Jeremy Sala, with Civil Solutions Engineering and Management, part of the project's general engineering consultant team, who is working with ADOT, oversees construction on the east end of the project. Sala believes drivers should observe the speed limit and obey traffic signals to ensure construction crews stay safe as they work on the project for the next two and a half years. 
Edika Zarbroudi wants to remind motorists that when they slow down in construction work zones, they will arrive at their destination safely. Speeding causes crashes, which only create more traffic congestion and longer commute times, which slow everyone down, she said. 
Marcy McMacken, who joined ADOT's Major Projects communication team in November 2021 and helped produce the PSA, said her main goal was to create a safety message that not only included the faces of project team members who are regularly out in the work zone but also provided a visual of the costly damage caused by high-speed vehicle collisions. McMacken hopes both of these will encourage motorists to slow down in active work zones.