More signs of progress on Interstate 10 widening project
More signs of progress on Interstate 10 widening project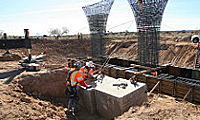 By Tom Herrmann / ADOT Communications
Just to the east of Interstate 10, about halfway between Tucson and Phoenix, you can see the progress as Arizona Department of Transportation crews begin building a new interchange at State Route 87 in Eloy.
The new interchange is part of a $58 million project that also includes widening I-10 to six lanes, realigning a section of the freeway to the east and a first-of-its-kind dust detection zone designed to make the freeway safer for drivers when blowing dust makes it difficult for drivers to see the road ahead.
Steel supports are now visible for the interchange, which will carry traffic over both the Union Pacific Railroad tracks and I-10, connecting with Phillips Road to the south.
There will be few restrictions for I-10 traffic until crews begin connecting the new lanes of I-10 with the existing freeway later this year. The ramp from eastbound I-10 to northbound SR 87 is closed, and drivers should watch for signs to direct them around construction.
The project is the first of two I-10 widening efforts that will make I-10 a six-lane freeway from the northern edge of Casa Grande to the east side of Tucson. Work on the second project, which includes widening I-10 between Earley Road and Interstate 8 in Casa Grande, should begin in the spring.