MVD provides services, assists veterans at 2012 StandDown
MVD provides services, assists veterans at 2012 StandDown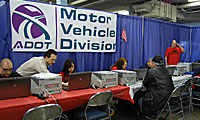 Some of the men and women who have bravely served their country are now homeless or at risk …
Instead of letting that sad fact stand on its own, several organizations work to provide assistance to these veterans through an annual event called the Arizona StandDown.
ADOT's Motor Vehicle Division was one of more than 50 agencies to take part in this year's StandDown held last weekend at the Veterans Memorial Coliseum in Phoenix.
ADOT employees were there to help veterans get their driver licenses or state identification cards – important credentials to have in hand when applying for employment and other services.
To make sure they could process people on site, MVD employees brought 12 complete work stations to the Coliseum. Those work stations were set up just like an actual MVD office. Veterans were able to conduct transactions for driver license applications, renewals, written examinations and the road skills test (Courtesy Chevrolet provided three vehicles to be used for those who did not have one of their own).
MVD has participated in the StandDown for the past seven years. Dozens of MVD employees are always on hand to help and according to MVD Director Stacey Stanton, it's a very rewarding experience.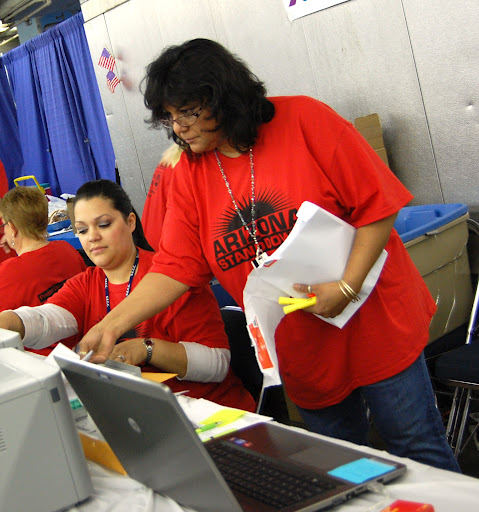 "It's a fantastic event … it's almost indescribable," Stanton said, adding the StandDown is an ideal situation in that it lets veterans take care of many issues at once. "It's a one-stop shop."
StandDown coordinators certainly did think of everything …
Besides MVD, some of the other services available included court registration, housing assistance, substance abuse counselors, VA help, DES employment and benefits assistance, information on Social Security, legal aid and tax services.
There were even sleeping areas for men, women and families. Meals
were provided along with clothing, haircuts, showers, storage and pet care.
One veteran who attended this year's event and wished to remain anonymous called the Arizona StandDown a "homerun" as he was waiting to get his driver license reinstated. MVD employees say several veterans return each year to provide an update on their progress since the last StandDown they attended.
MVD Regional Manager Dave Jackson, a veteran himself, serves on the Arizona StandDown executive committee and says planning for the event takes place year round.
But it's worth it …
Jackson said he talked to a veteran who was homeless five years ago but is now in a position to give back.
"We see that every year," Jackson said.
Visit the Maricopa County StandDown website for more information.