New HD cameras paint a clearer picture of I-19 in Tucson
New HD cameras paint a clearer picture of I-19 in Tucson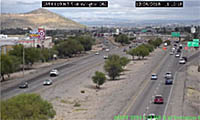 By Garin Groff / ADOT Communications
If a picture is worth 1,000 words, you might say drivers in Tucson now have 7,000 words to paint a vivid picture of their next trip on Interstate 19. That's because ADOT has upgraded the highway's seven traffic cameras to high-definition devices that constantly provide images to ADOT's Arizona Traveler Information site.
The cameras show conditions from roughly between I-10 to a little north of San Xavier Road, so you'll know if you're facing a smooth commute, delays from a crash or a cloudburst that's drenched the roadway.
The images update every 5 seconds to ensure you're always seeing the latest conditions.
There's more to the cameras than providing real-time highway so drivers can make informed decisions. The cameras are a key tool for operators at ADOT's Traffic Operations Center to look for crashes, debris on the road and weather conditions. Using those cameras, operators can quickly and accurately update overhead message boards so drivers know what's ahead of them.
ADOT operates roughly 300 cameras along the state's highways, mostly in the Phoenix and Tucson areas.