New hi-def cameras give motorists better picture of traffic
New hi-def cameras give motorists better picture of traffic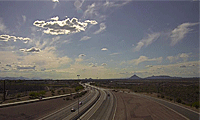 By Tom Herrmann / ADOT Communications
Drivers in the East Valley can get a clear look at the traffic that awaits them on Valley freeways thanks to images from new high-definition cameras available on the az511.gov website.
Located at one-mile intervals along the Loop 202 Red Mountain Freeway between Gilbert Road and US 60 and along Loop 202 Santan Freeway between Loop 101 and Interstate 10, the cameras help ADOT better manage traffic on the freeway. The images will allow drivers to see road conditions before they get behind the wheel.
Images from our traffic cameras let drivers see firsthand exactly what's happening on roads across Arizona and plan their routes in the way that works best for them. These new high-definition cameras are just the next step.
In the near future, cameras are expected to be added along Interstate 17 from Loop 101 to Anthem and along the Loop 202 Santan Freeway between US 60 and Loop 101. ADOT operates more than 200 cameras statewide, most in the Phoenix and Tucson areas.
In Maricopa County, the freeway cameras are funded through the Maricopa Association of Governments Regional Transportation plan approved by voters in 2004.
ADOT began using high-definition cameras in early 2013 and uses high-definition cameras to replace cameras that need repairs or on new or improved sections of freeways. The low-definition cameras that were installed originally are no longer available.
Besides allowing commuters to make more informed decisions on their routes, traffic cameras are used to quickly identify incidents so traffic can be redirected and provide first responders with fast, accurate information. Operators in ADOT's Traffic Operations Center use images from the cameras to identify restrictions caused by freeway crashes, information that is shared with the public through az511.gov and Twitter (@ArizonaDOT). The cameras are not used for enforcement of traffic laws, and the images are not recorded by ADOT.
Learn more about our traffic cameras from our Transportation Defined blog series. To see the latest cameras images, visit az511.gov and make sure "Cameras" is clicked in the upper right corner.