New highway signs celebrate Grand Canyon National Park's centennial
New highway signs celebrate Grand Canyon National Park's centennial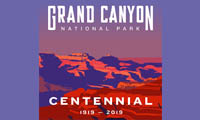 By Ryan Harding / ADOT Communications
While the Grand Canyon itself may be a tad older than 100 years, this year Arizona is celebrating the centennial of Grand Canyon National Park, which was established on Feb. 26, 1919, under President Woodrow Wilson.
ADOT is helping mark the occasion by installing 40 Grand Canyon Centennial signs along state highways across Arizona. Two additional signs will be temporarily displayed at Wesley Bolin Memorial Plaza near the State Capitol in downtown Phoenix.
Governor Doug Ducey unveiled the sign at a ceremony Wednesday outside the Capitol. The photo above shows the governor with ADOT Director John Halikowski and Debbie Johnson, director of the Arizona Office of Tourism.
The Arizona Office of Tourism, with support from APS, provided the $30,000 needed to create the signs.
And for a little multimedia, here's Governor Ducey's tweet with video of the unveiling.
Happy Birthday, Grand Canyon! @GrandCanyonNPS @ArizonaTourism @ArizonaDOT @AZStateParks @apsFYI #GrandCanyon100 pic.twitter.com/gsYcduTadd

— Doug Ducey (@dougducey) February 27, 2019