A new milestone for Loop 303 project
A new milestone for Loop 303 project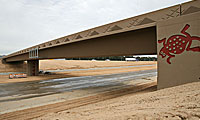 West Valley drivers are going to notice a change at Loop 303/McDowell Road and Loop 303/Thomas Road come Sunday morning.
But before we get to that, let us first tell you about an overnight closure that's going to help bring about that change…
Loop 303 will be closed in both directions between McDowell and Indian School roads from 4 a.m. Saturday (March 8) to 9 a.m. Sunday (March 9). McDowell Road also will be closed during that time between Citrus Road and Sarival Avenue.
The closure is necessary so crews can finish up some striping, remove barriers and traffic control, and activate traffic signals.
Once they're finished, drivers will be able to use the full McDowell Road Bridge. Right now, motorists are only able to drive on the south side of the bridge and traffic is limited to one lane in each direction.
That's not all. After crews wrap up on Sunday morning, drivers heading north on Loop 303 will now use the Thomas Road Bridge to reach the freeway on-ramp, instead of having to maneuver a detour.
The milestones on this project are really starting to add up. Work is on schedule for the Loop 303/I-10 interchange to wrap up later this year. Loop 303 construction on Camelback Road to Glendale Avenue is also slated to continue through summer of 2014.