New record set at the MVD and it will benefit Arizonans
New record set at the MVD and it will benefit Arizonans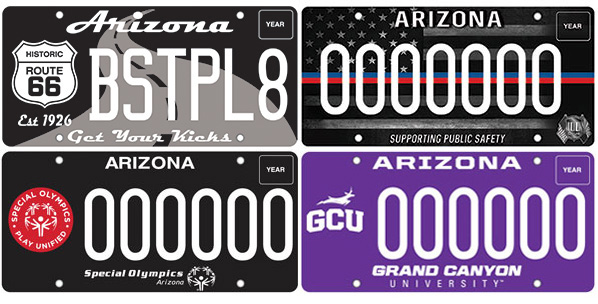 By Doug Nick / ADOT Communications
What's 6 inches by 12 inches, made of metal and worth almost $10 million?
Well, nothing really, but humor us anyway because MVD specialty license plates have raised a record amount to benefit good causes in Arizona.
As of June 30, which is the end of the state's fiscal year, the sales of specialty plates totaled almost $10 million – a new record.
That money goes toward a lot of worthy organizations such as aid to families of fallen first responders, university scholarships, veterans' services, child abuse prevention, cancer awareness and a whole lot more.
We added four plates in the last few months and people love 'em, but the classic plates continue to be very popular too.
If you've been thinking about getting a specialty plate, take a look at what we offer at azdot/mvd or ServiceArizona.com.
Getting a specialty plate helps a lot of Arizonans. That's worth more than $10 million; it's priceless.