New specialty license plates now available
New specialty license plates now available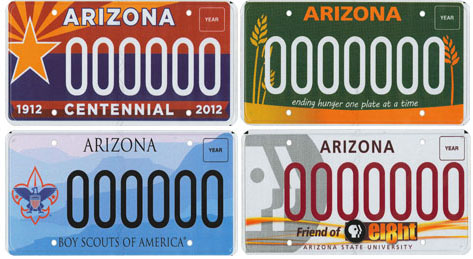 Whether you want to show some school pride, support a cause or cheer on your favorite team, there's a good chance you'll find a specialty license plate to help you do so.
Arizona drivers now have even more designs to consider… four new specialty plates (Arizona Centennial, Boy Scouts of Arizona, Hunger Relief and Channel 8 PBS) are available starting today!
You can take a look at all the specialty plates over on the MVD's Web page on plates and placards. There's a lot to choose from … but, have you ever wondered how a specialty license plate is chosen to go into production?
Even though ADOT's Motor Vehicle Division issues license plates, ADOT and MVD do not decide which plates get the OK.
That's a common misconception, according to Special Plates Program Manager Michael Meier.
"We don't decide," he said. "That's a function of the legislative process."
More about the process
First, a non-profit group or cause has to get the attention of state lawmakers. A bill sponsored through the legislature must pass and then be signed into law by the governor before any specialty plate can be manufactured.
Once that step is cleared, the group pays a $32,000 implementation fee, which covers programming costs and production.
"(Specialty plates) don't cost the state anything," said Meier, adding this is another misunderstanding many make about the program.
Next, the group works on a design alongside ADOT/MVD. There are a few guidelines the plates have to follow. It has to be readable at 100 yards, can't be too busy and it must have a definite color offset between the numbers and the background design.
Once a design is agreed on, seven prototype plates are created.
Law enforcement officials, representatives of the non-profit group and MVD's director all review and sign off on the plate. Literally – they put their signature right on the back of the prototype!
When all the approvals are in place, the new plates are rolled out and made available to motorists (we'll talk about how they're made in a future blog post).
Specialty plates cost drivers a $25 initial application fee and a $25 renewal fee, but $17 of that money goes right to the non-profit group/cause that put up the $32,000 implementation fee. The remaining $8 is for administrative costs.
Some specialty plate statistics
Did you know that more than 10,500 Arizona drivers have chosen the pink ribbon/cancer awareness plate? The Arizona Diamondbacks plate is a popular one, too. Roughly 8,200 cars are sporting that plate! But the Arizona Cardinals have that beat ... more than 20,000 Arizona motorists have shown their team spirit by choosing a Cardinals license plate.
There's no telling which plates will become best-sellers, but you can view some statistics on the MVD web page.
For more on all the license plates offered in Arizona and details on the services offered by MVD, visit azdot.gov/motor-vehicles.