November is a time to remember ... bridges
November is a time to remember ... bridges
Kathy Cline / ADOT Communications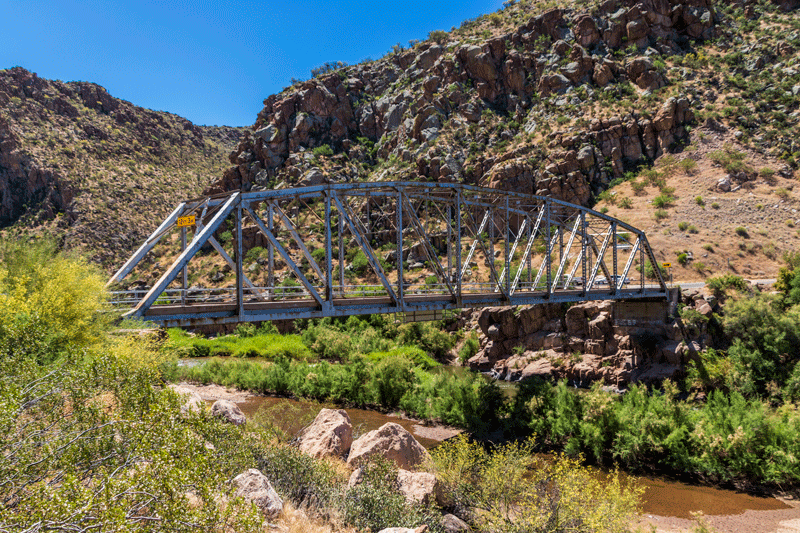 November is Historic Bridge Awareness Month. There's no official celebration here in Arizona, but we'd like to highlight some a few of our favorite bridges in Arizona.
First, is the "other" Salt River Bridge. It's carried State Route 288 traffic across the Salt River in Gila County since 1920. Even more impressive, it's done that without any significant changes. Although it's considered a remote crossing, the SR 288 Salt River Bridge is important in state bridge history because it's the earliest documented example of a bridge constructed by the Bureau of Public Roads in Arizona.
Another of our favorites is the Chevelon Creek Bridge in Navajo County. The deep, rocky canyon over Chevelon Creek, east of Winslow, cuts across the Colorado Plateau, the broad, relatively flat piece of topography that makes up most of northeast Arizona. This bridge carried mainline traffic on the Santa Fe Highway across that creek and was an important crossing for one of the nation's earliest transcontinental routes. Today, it carries relatively sparse local traffic, but is still remembered as one of the State of Arizona's first highway structures.
The Bylas Bridge also has historical importance. Located on US 70, it was the longest historical bridge over the Gila River. After its completion in 1957, the Bylas Bridge carried mainline traffic on US 70 for decades, essentially unchanged. Unfortunately, by the early 2010s it could no longer support modern traffic needs and was demolished in 2013 after a new bridge was built.