Now that we've Sasquatch your attention...
Now that we've Sasquatch your attention...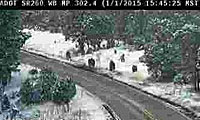 ADOT has been in the news lately…
Maybe you've seen the articles alluding to the "mysterious beasts" photographed on New Year's Day along a snowy Arizona highway? In case you haven't, they're all referencing this headline-making photo that was posted by ADOT to Facebook and Twitter.
While we never could have predicted that 2015 would kick off in this way, we're glad to see so much engagement over on ADOT's social media sites. As of this moment, the photo has been shared an amazing 4,694 times on Facebook, and it has officially surpassed this other blurry shot to become our most "liked" picture. It also helped boost our overall number of Facebook page "likes" by about 3,000 (so far).
Witnessing something go viral is exciting, but once the attention dies down, we want all our old and new fans to know that we'll continue to post ADOT news and information, along with the entertaining content.
Here's where we're asking for your help.
We hope that you'll assist us by spreading that important stuff, too. Because sharing an alleged Sasquatch sighting is fun, but being able to quickly provide vital road safety information to your network of family and friends is really valuable – it's also why ADOT started using social media in the first place.
Beyond travel advisories and road conditions, you also can expect to see a lot of interesting content that's focused on how our state highways are planned for, built and maintained. You'll find all that on our Twitter, Facebook, Flickr and YouTube sites. Hopefully, our new fans will use these tools to connect with us and share our information (if you've been following us for a while, we thank you for helping us build our social media foundation!).
But wait, what was in that photo?
While the truth may be out there, we unfortunately do not have the answers to your cryptozoology queries. We can tell you that a current view of the infamous spot on State Route 260 is available from our cameras on az511.gov.
In fact, you can always visit az511.gov to get the latest on highway conditions around the state before you head out on the road. We encourage drivers to check our highway cameras for real-time images that give a glimpse of weather conditions (and mysterious beasts) in various regions.