By the numbers: Santa Cruz River bridge on Ina Road
By the numbers: Santa Cruz River bridge on Ina Road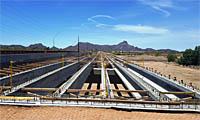 By Tom Herrmann / ADOT Communications
If you stand at the east end of the Ina Road bridge over the Santa Cruz River in Marana, it looks like the bridge goes on forever.
That's not quite true, but the bridge that should begin handling traffic by the end of the year is longer than most in Arizona. It's 640 feet long – more than the length of two football fields – and longer than the longest home run in major league history (Babe Ruth hit one 575 feet back in 1921).
ADOT crews put girders in place for the new westbound bridge in mid-May. The structure is almost identical to one we built in 2017 that eventually will carry two lanes of eastbound traffic toward Interstate 10 about a half-mile away.
Here are more numbers when it comes to the Santa Cruz River bridges:
With the help of a crane and some very strong ropes, we placed 54 girders to support the bridge.
There are nine piers holding up those 54 girders.
Six girders, running the same direction as the bridge, rest on each pier.
Each girder weighs 45,000 pounds, or about 22.5 tons.
Combined, that's 2.43 million pounds – 1,215 tons – of girders ready to support the roadway that will cross the bridge.
The next big step: Pouring the deck and superstructure of the bridge later this year. That will involve pouring 946 cubic yards of cement. At 2 tons per cubic yard, we'll be pouring, smoothing, curing and striping nearly 1,900 tons of concrete for this bridge alone.
Looking at the bridge from below reveals that the girders curve upward just a bit. That's to allow each to drop down just a little when the deck is poured into place.
ADOT is overseeing a $128 million project creating a modern traffic interchange that includes a bridge carrying Ina Road traffic over Interstate 10. We're also widening the interstate and making Ina Road two lanes in each direction west of I-10. The project remains on track for completion in early 2019.
The town of Marana is contributing $7.9 million toward the cost of the Santa Cruz River bridges and the rest of the funding is from the Federal Highway Administration, the Pima Association of Governments and the Regional Transportation Authority.