Online scheduling for VIN appointments making lines a thing of the past
Online scheduling for VIN appointments making lines a thing of the past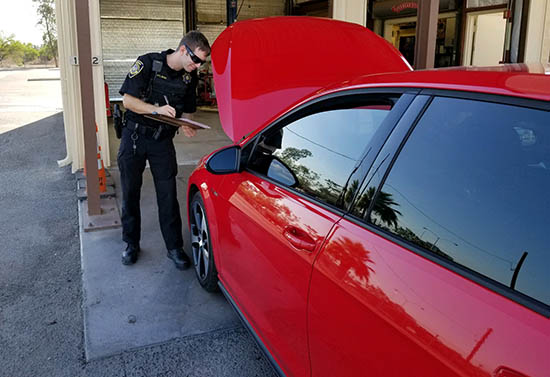 By Ryan Harding / ADOT Communications
ADOT has made getting a more involved vehicle inspection easier, with customers now able to schedule an appointment online through ServiceArizona.com. In fact, on a recent day 158 of the 191 inspections ADOT officers completed were scheduled online.
ADOT's Enforcement and Compliance Division, which handles these inspections, started with the Glendale MVD office and has been adding more locations online since, including Tempe, Mesa, Scottsdale, Tucson, Kingman, Lake Havasu City and Bullhead City.
By September, we expect all vehicle inspection locations statewide to be taking online appointments. In fact, all Level 2 and 3 vehicle inspections will be scheduled online only. Walk-ins will be welcome, but only if there's an open slot in that day's schedule.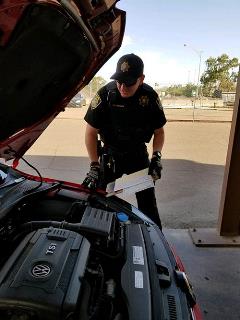 ADOT officers inspect an average of 840 vehicles per week in the large metropolitan areas. Customers would line up outside inspection locations in the early hours of the morning just to get an inspection.
Now, I know what you're thinking. What are vehicle inspections and what to the different levels mean? Well, these inspections confirm the identities of vehicles by matching VIN numbers to titles and other ownership documents.
Level 1 VIN inspections are for out-of-state vehicles without proof of title or registration and for bonded titles. While most vehicles are verified at this level, follow-up inspections sometimes are required by officers at Enforcement and Compliance Division inspection locations:
Level 2, when a vehicle's VIN number can't be matched or the VIN number isn't there.
Level 3, when a vehicle is a restored salvage or recovered stolen vehicle, or has been involved in a collision.
So, there you have it. To schedule an appointment, visit ServiceArizona.com and click on "Vehicle Inspection Appointments." Make sure you arrive 15 minutes prior to your appointment and check in with the Enforcement Services representative.
A list of VIN inspection locations can be found at azdot.gov/mvd under Enforcement.