Our director gets on-the-job training in ADOT's vehicle maintenance shop
Our director gets on-the-job training in ADOT's vehicle maintenance shop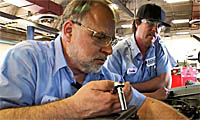 By Angela DeWelles / ADOT Communications
Under the Arizona Management System, Director John Halikowski joins other ADOT leaders by going where work is done in what are known as Gemba walks.
It's led to a popular series of videos for ADOT employees called Direct Connect, which has developed into a cross between "Dirty Jobs" and "Undercover Boss." Through Direct Connect, the ADOT Blog has already followed Halikowski to the Topock Port of Entry, the ADOT sign shop and one of our freeway pump stations. This time around he's on the job with employees from Equipment Services who make sure vehicles are ready to roll.
The episode above shows Halikowski learning how to prep a snowplow, weld and complete some routine vehicle maintenance – all under the supervision of Equipment Services technicians, of course!
After his workday is over, Halikowski wraps up his experience by sharing his thoughts on the role each employee has at ADOT.
"Everybody's job is important at ADOT. I don't care where you're working at or what you're working on," he says. "We're an incredibly complex and diverse agency and, as you can see from my travels ... we all have to rely on each other to make sure that we are safe and we get home safely to our loved ones at night."