Public involvement key to shaping Interstate 11 environmental study
Public involvement key to shaping Interstate 11 environmental study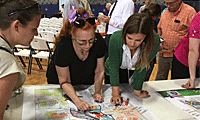 By Laura Douglas / ADOT Communications
With six well-attended public meetings now complete, the Arizona Department of Transportation's Interstate 11 study team wrapped up a busy month this June talking with Arizonans about the proposed new route.
Meetings were held in Casa Grande, Buckeye, Nogales, Tucson, Marana and Wickenburg, all designed to allow community members to help shape the next step of planning for I-11. This included sharing thoughts by marking up maps.
We're excited about the high level of interest and engagement that we've seen as ADOT studies a 280-mile corridor that runs from Nogales to Wickenburg.
"This is the time when the Arizona Department of Transportation looks to the public to provide us with their comments, questions, opinions and concerns as we study a corridor for Interstate 11 between central and southern Arizona," ADOT Director John Halikowski said. "We saw a great turnout at the public meetings in June as people expressed their ideas about the study process. This is why we turn to the public. It's their opportunity to tell us what's important to them."
Anyone interested in sharing their views about the study still has time to comment. Simply visit the study website at i11study.com/Arizona and complete an online survey. All feedback, questions and comments will be considered part of the study, are entered into the project record and will help shape the proposed I-11 corridor. The public comment period runs until July 8.
For more information about the I-11 study and to contribute your suggestions, please visit i11study.com/Arizona.