Rest area caretaker creates a doggone happy ending when pooch goes missing
Rest area caretaker creates a doggone happy ending when pooch goes missing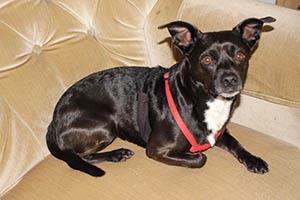 By Rusty Crerand / ADOT Communications
As ADOT's constituent services officer, I handle questions, comments and complaints from the public. By far the most difficult and emotional are inquiries regarding lost dogs.
A dog owner's call to ADOT is usually the last after contacting animal rescue and local animal shelters. Being a dog lover myself, it's easy to feel how distraught these owners are not knowing their dogs' fates. Usually by the time they call me they are simply looking for closure. Fortunately, not all of these stories end sadly, including the one I'm sharing today.
We recently received a desperate phone message from Jesse, whose beloved dog George, had apparently sneaked out of the car at the Burnt Well Rest Area on I-10 without him knowing. He was almost to Phoenix before it became apparent that George wasn't in the vehicle.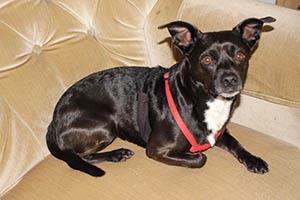 "We realized he must of jumped out of the vehicle at the rest area when I got the water from the back," Jesse said.
Jesse immediately turned around, but it was going to be a long two hours before he could get back to the rest area in far western Arizona. He called ADOT's media line, and I called back and left a message seeking information that I could pass along.
Not to worry. Michele Meredith, a resident caretaker at the rest area employed by an ADOT contractor, had taken George under her wing and was ready to hand him off when Jesse returned. That's Meredith in the photo above.
Jesse called the next day to thank us for our concern and express his appreciation for Meredith going above and beyond. She helped turn a terrible situation into a unbelievable story he can tell for years.
By the way, Jesse said George didn't hold a grudge. Instead, he went crazy when Jesse spotted him tethered to a bench at the rest area.
"We were both excited to see each other again," Jesse told me.