On the road: A visit to Canyon Diablo Bridge
On the road: A visit to Canyon Diablo Bridge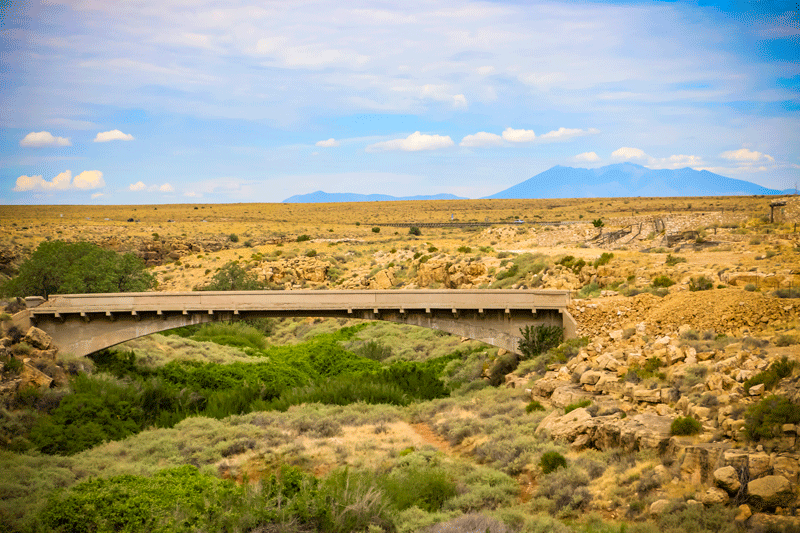 By Kathy Cline / ADOT Communications
This bridge may look like a ruin in the middle of nowhere, but it's one of Arizona's earliest examples of vehicular bridge construction.
Canyon Diablo Bridge used to carry Route 66 over Canyon Diablo, about 30 miles east of Flagstaff (the ghost town of Two Guns is near its east end). According to the National Park Service, Arizona State engineer Lamar Cobb selected and surveyed the location; plans and specifications were purchased for $500 from the Topeka Bridge & Iron Co. Thomas Maddock of Williams, Arizona, built the bridge for $9,000.
Canyon Diablo Bridge opened to traffic in 1915. Designed to deal with occasionally violent floods through Diablo Canyon, its upstream wall was solid to protect the roadway, while the downstream wall had slots to allow water through.
At first, the bridge was part of the Santa Fe Highway (national name: Old Trails Road), which became part of U.S. Route 66 in 1926. This bridge fell out of use in the 1930s, when a new bridge was put up just to the north of this one. That bridge followed Interstate 40 at Two Guns.
The Canyon Diablo Bridge was added to the National Register of Historic Places in 1988.
Visiting this bridge is easy: Just take I-40 north to Exit 230 (Two Guns). You'll find the bridge along the historic Route 66, which goes through Two Guns.