Runaway truck ramps make for a runaway video
Runaway truck ramps make for a runaway video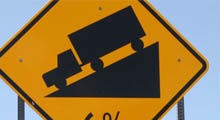 By David Rookhuyzen / ADOT Communications
It's no secret that we love to use this blog to show you what we are doing, and that often means sharing videos.
Thanks to a crack video team, we have a vibrant YouTube channel, started nine years ago and going strong with more than 350 videos to share and 2,000 subscribers. Here you can find videos on nearly everything ADOT has done, from snowplows to seat belts and bridge building to bird rescue.
That's why it was exciting for us to learn that one of our videos has now surpassed the 250,000 views mark. That's right, our 2015 video about the engineering that goes into runaway truck ramps along steep grades has been seen more than a quarter of a million times.
For comparison, our next most-seen videos were our 2017 visualization of the future South Mountain Freeway, with more than 150,000 views, and a 2013 video showing the aftermath of a landslide on US 89, which is just shy of 60,000.
We've embedded the truck ramp video above so you can either watch it for the first time or enjoy it all over again. Either way, we thank you for the views and hope you will keep watching.