Scenic highway to Grand Canyon's North Rim going on ice for winter
Scenic highway to Grand Canyon's North Rim going on ice for winter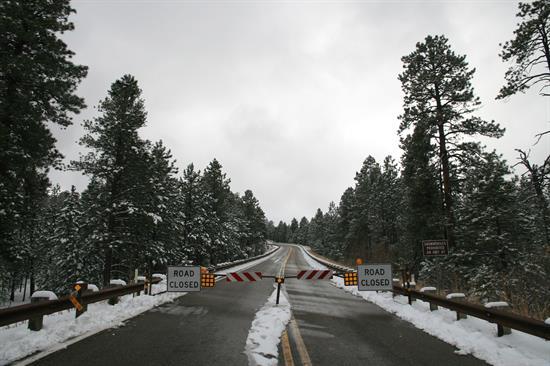 By Peter Corbett / ADOT Communications
Grand Canyon National Park attracts 5.5 million visitors annually, but only about a tenth of them tour the North Rim. And none of those visit the North Rim in the winter.
With tourist amenities at and near the North Rim closed for the season, ADOT closes State Route 67, the 40-plus-mile route south from US 89A at Jacob Lake. This year's closure is scheduled to begin Thursday, Dec. 1. Note that State Route 64 to the park's South Rim remains open all year.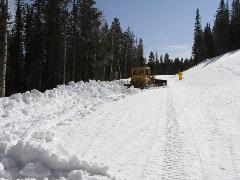 With the North Rim hibernating for the winter, ADOT locks a gate on SR 67 a half mile south of Jacob Lake. Then the snow piles up and up.
The North Rim averages 9½ feet of snow annually, nearly 2 feet more than Buffalo, New York, according to the National Weather Service. A record 24 feet fell in 1979. The heaviest single-day snowfall hit Feb. 18, 1932, when 4 feet piled up on the North Rim.
"Some storms we'll get 12 inches of snow, and with drifting we can't get it off the highway with a plow truck," said Tammie Zaccaria, ADOT highway operations supervisor in Fredonia.
SR 67 is a National Scenic Byway that passes through alpine meadows and the national forest with stands of ponderosa pine, fir, spruce and aspen trees. There is no commercial development along the route except for one lodge and a nearby store.
Reopening SR 67 in the spring is a heavy lift that starts in mid-April. ADOT uses a bulldozer and a six-wheel-drive grader with a V-plow and wing-plow to clear the snow and trees that blow down over the winter, said Zaccaria, who has been with ADOT for 25 years.
The highway is scheduled to reopen in mid-May along with the North Rim lodges, campgrounds and other amenities.