Shining the spotlight on our Incident Response Unit during Crash Responder Safety Week
Shining the spotlight on our Incident Response Unit during Crash Responder Safety Week
By Luis Carlos Lopez / ADOT Communications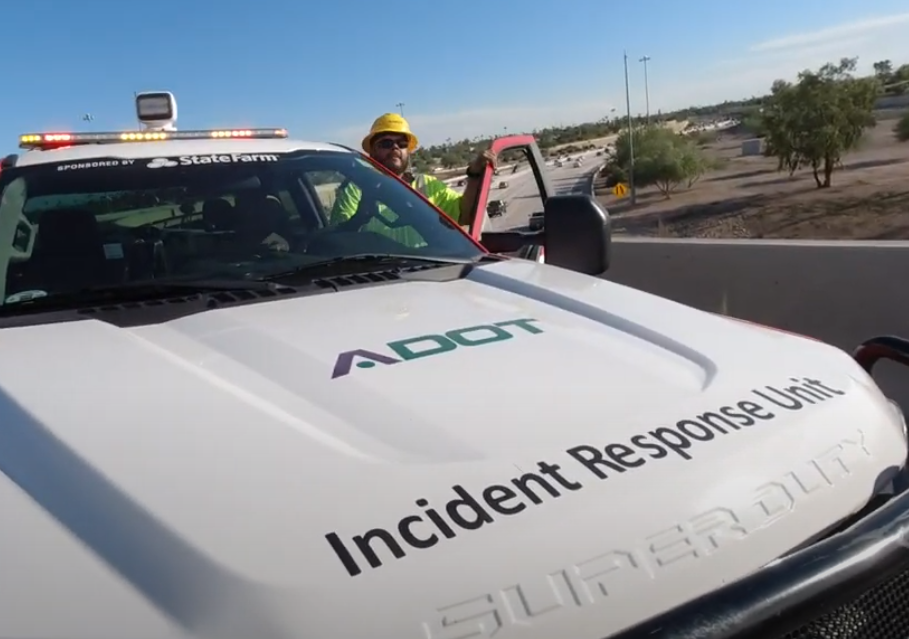 It's Crash Responder Safety Week and, here at ADOT, we're spotlighting a team that responds to incidents and help improve safety by getting traffic moving sooner after crashes and other incidents occur.
We are, of course, referring to our Incident Response Unit, a 15-member team that performs many duties, from setting up traffic control at crashes to removing debris from travel lanes to helping stranded motorists. 
Recently, we went on a ridealong with IRU supervisor, Cody Smith, who has been patrolling the highways since the program's inception in 2019.
"It's been a journey. I love it here. It's a fun job," Smith said while responding to a call.
Response calls can range from helping stranded motorists, to clearing debris from highway travel lanes and assisting law enforcement and first responders with serious traffic incidents.
"We are here to help you," Smith said. "If you see us out-and-about on the roadways working an incident, remember that we are working as quickly and effectively as possible. We always want people to get home safely, that's the ADOT way."
In October, ADOT's IRU team celebrated three years of operation. That's 37-months and counting of providing valuable services from west of Wickenburg to Apache Lake and north of New River to south of Gila Bend. For those of us crunching numbers, that's 9,224 square miles.
"IRU has had a positive effect on Valley traffic that might not be obvious to the general motoring public," said Neil Barker, a dispatch supervisor at ADOT's Traffic Operation Center, a 24-hour hub that monitors traffic conditions statewide.
So remember, if you see IRU trucks or any vehicle with flashing lights on the side of the road, move over one lane – or slow down if moving over isn't possible – and give them a safe place to do their work. It is beneficial for all of Arizona.