Signaling a commitment to southeast Pima County
Signaling a commitment to southeast Pima County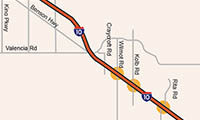 By Tom Herrmann / ADOT Communications
From the time Interstate 10 arrived in Tucson in 1965, we've worked to make sure the freeway kept pace with Pima County's growth.
Growth in southeast Pima County is translating into more vehicles on I-10. Since 2012, average daily traffic on I-10 at Kolb Road has increased by nearly 20 percent to almost 50,000 vehicles each day.
That's the reason behind the work we'll be doing for the next seven months where I-10 meets Rita, Wilmot and Kolb roads. We're replacing stop signs at the end of each exit ramp with traffic signals that will move traffic more efficiently on and off the freeway and reduce delays when you're trying to get home at the end of a workday. We're also adding lanes on the eastbound exit and westbound on ramps at Rita Road.
That's not all. Two years from now we will rebuild the traffic interchange at Houghton Road with a diverging diamond design. It's safer and moves traffic more efficiently than traditional interchanges.
Right now we're adding a new surface to the bridge at Wilmot Road to make it last for years to come, just as we did at Craycroft Road last year. We're using a temporary bridge to maintain two lanes of traffic in each direction and avoid delays.
As this area of Pima County grows, we're right there with you.