Slideshow: Ina Road/I-10 work includes upgrades west of interstate
Slideshow: Ina Road/I-10 work includes upgrades west of interstate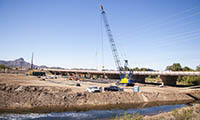 By Steve Elliott / ADOT Communications
An ADOT project creating a modern traffic interchange at Ina Road and Interstate 10 in Marana is also improving Ina Road west of the interstate, including reconstructing bridges over the Santa Cruz River and widening Ina west of the interstate.
The slideshow above allows you to review photos from this part of the work going on northwest of Tucson.
While Ina Road is closed at I-10, you can access area businesses throughout this project.