Smoothing Price Freeway's concrete surface part of regional pavement study
Smoothing Price Freeway's concrete surface part of regional pavement study
By David Rookhuyzen / ADOT Communications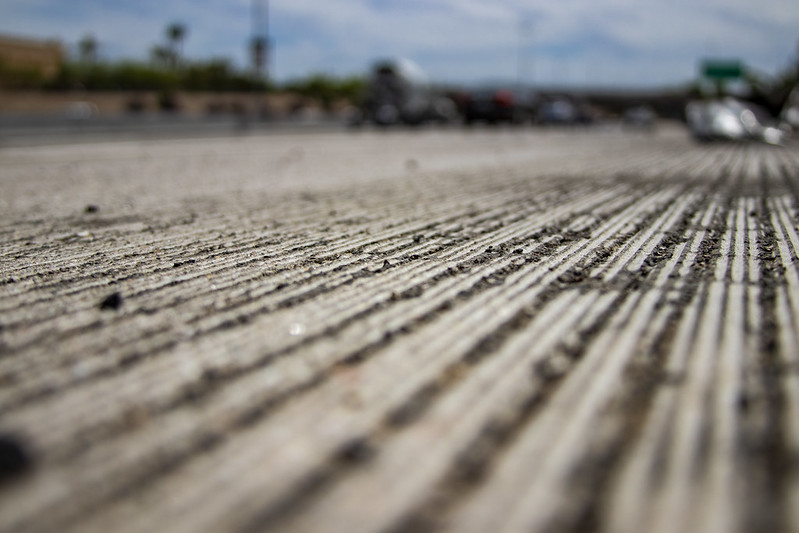 Those of you who use the section of Loop 101 south of US 60 (Superstition Freeway) in the East Valley have had to practice patience over the past year while the Price Freeway has been undergoing a widening project. 
In the coming months, drivers will not only have new lanes between Baseline Road and Loop 202 (Santan Freeway) but a smooth concrete pavement surface created by a specialized process called diamond grinding.
ADOT's use of diamond grinding, which involves the use of specialized machines with diamond-tipped blades to smooth a freeway's concrete pavement, is part of an analysis of pavement treatments supported by the Maricopa Association of Governments, which serves as the Valley's regional freeway planning agency.
While smoothing the pavement, diamond grinding also creates grooves designed to limit vehicle tire noise.
It's the same process crews used earlier this year on the Loop 202 Santan in the Chandler area to improve stretches where rubberized asphalt surface pavement that was well beyond its planned surface life resulted rough surface conditions. Diamond grinding in that area had the desired effect of providing a smooth drive. You can see what the process looks like in action in this video from the work on the Loop 202 to the right.
More than a decade ago, many Phoenix freeways were resurfaced with an inch of smooth rubberized asphalt. Many sections of those rubberized asphalt overlays have been in place longer than a planned service life of 10 years.With that in mind, ADOT and MAG are evaluating decisions over the long-term costs related to pavement wear and replacement. Part of that is considering whether to resurface using rubberized asphalt or using alternative techniques, such as diamond grinding. 
The two agencies will continue to study and consider surface pavement alternatives with cost effectiveness, noise limiting benefits and a smooth ride in mind.