Sonoran Corridor: A map without a route
Sonoran Corridor: A map without a route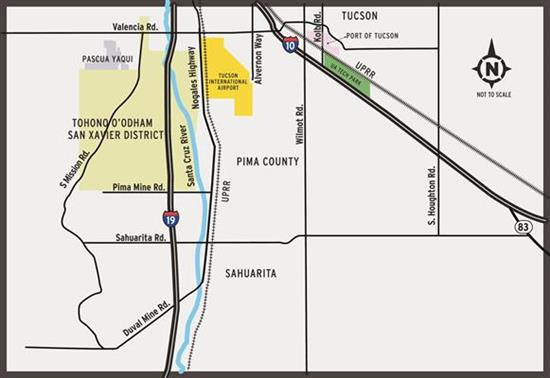 By Tom Hermmann / ADOT Communications
If you look closely, there seems to be something missing from the map of the Sonoran Corridor that accompanies this blog. Just south of Tucson International Airport, somewhere near where the map identifies PIMA COUNTY.
The map with our announcement of public meetings on the Sonoran Corridor doesn't show the Sonoran Corridor.
There's a good reason for that: So far, it does not exist. No route. No timetable. No funding.
The Fixing America's Surface Transportation (FAST) Act designated the Sonoran Corridor – a route that would connect Interstate 10 and Interstate 19 south of the airport as a high-priority corridor that would diversify, support and connect the economy of southern Arizona. It also would reduce congestion at the interchange of I-19 and I-10 and reduce travel distance in southern Arizona.
Twice this week – Wednesday in Tucson and Thursday in Sahuarita – ADOT and the Federal Highway Administration will welcome the public to scoping meetings on the project. We're working to identify 2,000-foot wide corridors that could someday be the site of the route. Over about the next three years we will study the economic and environmental impact of building the Sonoran Corridor in those areas. We'll also study the impact of not building a road.
This week's meetings will be at Wednesday at the Radisson Hotel Tucson Airport (4550 S. Palo Verde Road) and Thursday at the Santa Cruz Valley United Methodist Church (70 E. Sahuarita Road, Sahuarita). Both meetings start at 5:30 p.m. with presentations beginning at 6 p.m.
There will be more chances to speak up on this project, but there may be no better time than while we're just starting our environmental studies. We hope you'll join us.
For more information on the Sonoran Corridor or to find other ways to comment, visit azdot.gov/SonoranCorridor.