Spare our bridges; make sure equipment is fully secured
Spare our bridges; make sure equipment is fully secured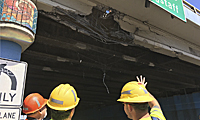 By David Rookhuyzen / ADOT Communications
We spend a lot of time reminding drivers to secure their loads so that mattresses, ladders and other items don't end up on our freeways.
But this advice extends beyond people moving furniture over the weekend. It's also important for those hauling construction equipment to make sure their equipment is secured, as we've seen again recently.
At least twice in the past year construction equipment has struck the undersides of freeway bridges in the Valley, once in October 2017 at I-17 and Seventh Avenue (as you can see in the picture to the right) and once just recently on the Loop 202 Red Mountain Freeway at Greenfield Road (the main photo above shows some of the aftermath). In both cases, hydraulic booms on the equipment being towed weren't secured.
Raul Amavisca, engineering administrator for ADOT's Central District, explained how drivers not ensuring these hydraulic arms are locked down can cause bridge strikes. When that doesn't happen, the normal movement from driving causes the boom to extend, and its hydraulic fluid doesn't allow it to drop back down, he said.
As the vehicle keeps driving, this problem continues until the arm is fully extended. And when the trailer then encounters a bridge … CRUNCH.
According to Mohamed Elomeri, assistant district engineer for the Central District, when a strike to a structure occurs, bridge engineers are called out to the scene to evaluate the damage. The strike from October 2017 required replacing a girder and other repairs, while damage from the latest strike was far less involved.
"Once the visual inspection is complete, a decision is made by Bridge Group whether to keep the road open or not, and if immediate repairs are needed we deploy our contractor and Central District resources ASAP to assess and schedule," he said.
In these cases, ADOT's Insurance Recovery Unit gets involved to ensure ADOT is recouping the funds for repairs from responsible parties or insurance firms.