SR 24 about to hit a growth spurt
SR 24 about to hit a growth spurt
By David Rookhuyzen/ ADOT Communications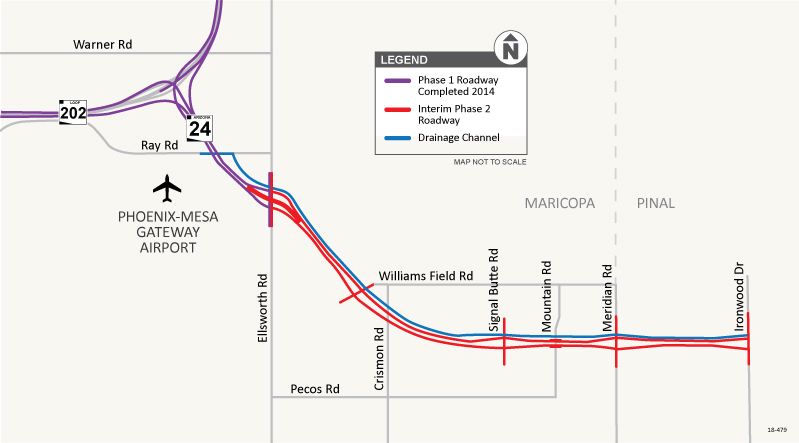 Those of you with younger siblings might remember being able to them push around ... that is, until they hit a growth spurt and suddenly they towered over you.
We think State Route 24 is soon going to feel like that not-so-little-anymore sibling.
For years, SR 24 has been the runt of the state highway system, a 1-mile whelp of a freeway that serves drivers in the southeast Valley. Don't get us wrong, it's an important connection that has helped people coming and going from east Mesa, Queen Creek and Santan Valley. Now it's time for it to grow up a little.
Work on extending the road to Ironwood Drive – adding some five new miles of road – has already started. This is an interim expansion. This section of SR 24 is starting as a four-lane divided highway, with it slated to be built out as a full-fledged freeway in the future, as outlined in the the Maricopa Association of Government's regional transportation plan. We guess you could say that, in highway terms, that makes it a teenager.
Right now everthing that's happening is preliminary work, things such as environmental surveys and preparing the corridor for the eventual construction. But expect to see road work begin in earnest in early 2021. Work is anticipated to continue through fall of 2022, or between 20 and 24 months. 
In addition to extending two lanes of highway in each direction between Ironwood and Ellsworth, the project will add bridges over Ellsworth and Mountain roads with additional intersections at Williams Field, Signal Butte and Meridian roads. 
With growth always comes some growing pains. Drivers should expect several months of traffic restrictions at Ellsworth to build the new bridges, along with lane closures and detours at other important road crossings. Most of the construction is scheduled Monday through Friday during the day, but there will be some night and weekend work required for bridge work, concrete pouring, asphalt paving and other temperature-sensitive activities. 
If you want to keep track of SR 24's growth, you can sign up for traffic alerts and other updates on the project's page on our website. Don't be surprised if you also see us post photos on this blog from time to time.
We are excited for the improved travel times and accessiblity the expansion is projected to bring to the area and think that those living out that way will like what they see once everything is wrapped up.
Our only concern is that SR 24's growth spurt just might make the 3.5-mile State Route 143 jealous...