SR 87 improvement project underway
SR 87 improvement project underway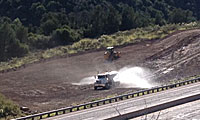 Today, we've got a quick update for you on a project that kicked off earlier this month, south of Payson…
The improvement project started Oct. 7 on a segment of State Route 87, about 10 miles north of Sunflower. Work includes the reconstruction of an existing curve at milepost 227 and the construction of a new southbound truck escape ramp at milepost 228. The $6.2 million project also includes slope excavation and reconstruction, drainage improvements, new signage and new concrete barrier installation.
Truck escape ramp
Unless you're driving a big rig, truck escape ramps probably aren't something you think about much. If you curious and want to learn how they work, you can check out our previous post on the subject. We'll have more information on truck escape ramps soon, so stay tuned!
What drivers should know
Drivers need to be aware of periodic daytime and nighttime single-lane restrictions in both directions on SR 87 for the next seven months – minimal delays are expected.
Overnight work hours will be Sunday through Thursday between 7 p.m. and 9 a.m. and daytime work hours will be Monday through Thursday from 6 a.m. to 4 p.m.
The work zone will be clearly marked by temporary barricades and signage.
Drivers should allow additional time to reach their destinations. Be sure to proceed through the work zone with caution, comply with the reduced speed limit and be alert for construction equipment and personnel.
This project is scheduled to be complete in mid-May. Visit the project webpage for additional details and traffic alerts.